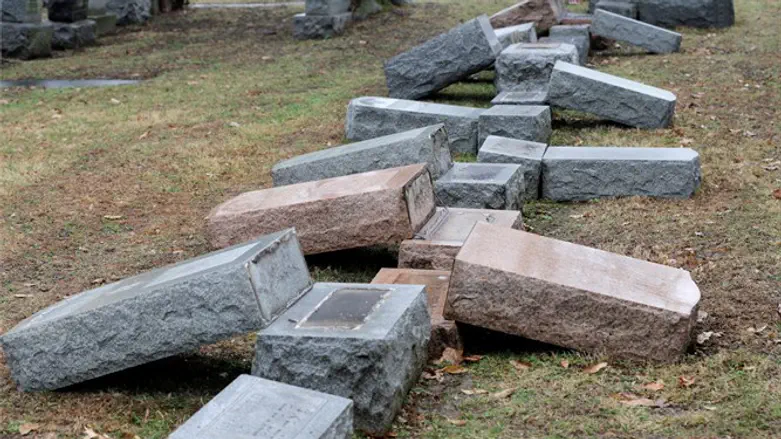 Toppled headstones at Jewish cemetery (illustrative)
Reuters
Two youths in Serbia have been arrested on suspicion that they toppled or smashed 47 headstones at the Jewish cemetery in the northern city of Pančevo.
In the Dec. 8 incident, the youths allegedly jumped over the cemetery fence and proceeded to push down the headstones, causing several to smash, the news site 021 reported. Police were notified of the vandalism last week, according to the report. It did not say whether the youths targeted the cemetery because it was for Jews.
In Poland, following up on an unrelated incident, authorities dismissed an official entrusted with protecting heritage and holy sites after human remains were dug up during construction work near a Jewish cemetery in the eastern city of Siemiatycze.
The incident that led to Andrzej Nowakowski's dismissal was reported earlier this month. The chief rabbi of Poland, Michael Schudrich, said he believes that this is "the worst desacralization of the Jewish cemetery" that he has seen since assuming his post 17 years ago.
Separately in Latvia, a Star of David and the word for Jew in German were spray-painted on the fence of the Simon Dubnov Jewish School in the capital of Riga, the Coordination Forum for Countering Antisemitism, an Israeli watchdog, reported Thursday.