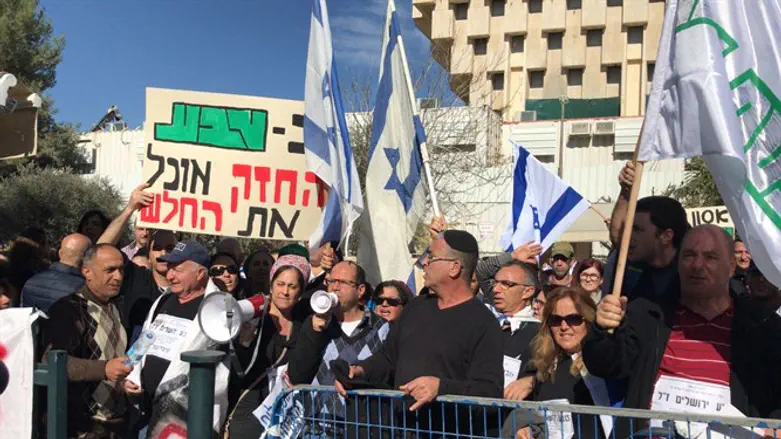 A demonstration by Teva employees in front of the Prime Minister's Office
Hezki Baruch
Teva CEO Kare Schultz told Prime Minister Netanyahu that the struggling pharmaceutical giant will aid the thousands of employees to be laid off as part of the company's restructuring.
Last week, Teva announced that would layoff 14,000 employees around the world, including 1,750 in Israel. The layoffs will constitute approximately 25% of Teva's entire workforce.
Teva employees have protested the the planned layoffs, blocking streets and burning tires outside the company's Jerusalem factories.
Schultz, who was recently hired to lead Teva as the company saw its market value plummet, met Tuesday with Prime Minister Netanyahu, the directors-general of the Prime Minister's Office, the Finance Ministry, the head of the National Economic Council and the head of the treasury's budget department.
At the meeting, the government demanded that the factories in Jerusalem remain open.
Schultz did not respond to the demand, but offered to work with the government to provide training to the employees and to find alternative employment solutions for most of the workers in the factories once they are closed.
The sides agreed to to establish a joint team for Teva and the government in order to find training and employment solutions for the workers.
Schultz reiterated his commitment to keep Teva's headquarters and Research and Development in Israel.
MK Amir Peretz (Labor) responded to Teva's announcement, at the end of the meeting, that the company would not give an inch on its plan to let go of thousands of workers and close factories in Israel.
"Kare Schultz was supposed to appreciate the efforts of a prime minister and three ministers to deal with a crisis at Teva, but he preferred to behave like a thug. This order cannot be allowed to go through. If such behavior is accepted in Israeli society, then every employee will be harmed by this," Peretz said. Peretz was chair of Israel's largest Labor Union, the Histadrut, before becoming an MK.