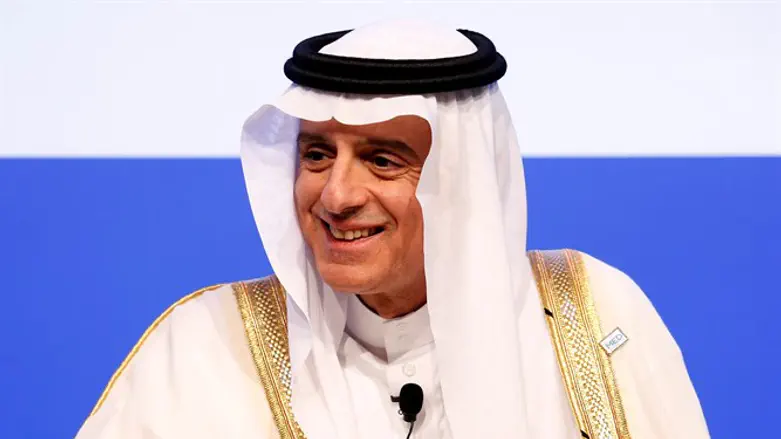 Adel al-Jubeir
Reuters
Saudi Arabia's foreign minister says he believes the U.S. administration is serious about getting a peace deal between Israelis and Palestinian Arabs, but its proposed plan is still being put together.
The minister, Adel al-Jubeir, made the comments in an interview with France 24 television and was quoted by Reuters.
"We believe the Trump administration is serious about bringing peace between Israelis and Arabs," said Jubeir.
"They were working on ideas and were consulting with all parties, including Saudi Arabia, and they are incorporating the views represented to them by everybody. They have said they would need a little bit of time to put it together to present it," he added.
Jubeir also emphasized that Riyadh continued to support a two-state solution for the conflict, which Washington had indicated to the Saudis was its working proposal.
"Whether the administration's proposals are acceptable to the parties remains to be seen because I don't believe that the plan the U.S. administration is working on has been finalized yet," he said.
The interview follows President Donald Trump's decision to recognize Jerusalem as the capital of Israel, which angered the Arab world, including Saudi Arabia, which called the move "unjustified and irresponsible".
The kingdom also said Trump's decision goes against the "historical and permanent rights of the Palestinian people".
Jubeir in the interview with France 24 also denied the Sunni Muslim kingdom had any relations with Israel despite sharing Israel's concern about the regional influence of Shiite Iran.
He repeated that Riyadh had a "roadmap" to establish full diplomatic relations with Israel should there be a peace agreement with the Palestinians.
There have been several recent reports which hinted that Saudi Arabia and Israel are getting closer.
One report claimed the Saudi government is weighing the possible normalization of relations with Israel ahead of a planned Middle East peace program by the Trump administration which aims to not only secure a final status agreement between Israel and the Palestinian Authority, but lead to recognition of the Jewish state by the larger Arab world.
Another report implied that Saudi King Salman plans to step down and announce his son as his successor, and that once the Crown Prince becomes king, he would enlist the help of the Israeli military to crush Hezbollah, Iran's proxy in Lebanon.
On Wednesday, before the interview with Jubeir aired, Intelligence Minister Yisrael Katz (Likud) invited the Saudi King and Crown Prince to visit Israel in an interview with the Saudi publication Elaph.
"Israel today views Saudi leadership in the region positively," Katz said. "No other Arab country exists with the same level of power and understanding."
He asserted that Saudi Arabia has the ability to "lead processes and make decisions for the region - as well as for the Palestinians," and noted that he would be ready to participate in negotiations with the Palestinian Authority if Saudi Arabia played a determining role in the negotiations.