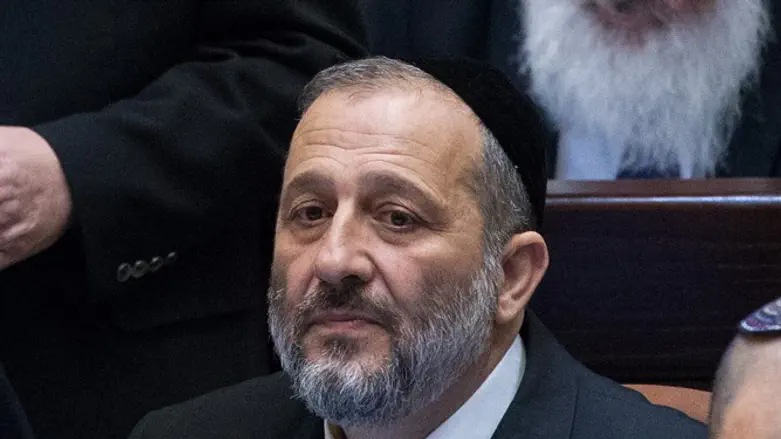 Aryeh Deri
Miriam Alster/Flash 90
Shas Chairman Aryeh Deri denied recent reports that the Shas party is considering running together with former head Eli Yishai's Yahad party in order to reverse its recent plummet in the polls and ensure that it passes the 3.25% electoral threshold.
Last week, Yishai had said that he would return to Shas if his return would ensure that the party would cross the electoral threshold. Shas has been hovering around the electoral threshold in almost every recent poll.
"Shas is important to me," Yishai said. "Unfortunately, Shas would not cross the electoral threshold with current leader Aryeh Deri. For many reasons, I don't want to hurt Shas."
Yishai said while he was prepared to be number two behind Deri, he would only run alongside Shas if he was instructed to by his spiritual authority, Rabbi Meir Mazuz."If the rabbis decide it, I will run. If Rabbi Meir Mazuz decides that we are going to save the Shas movement with two parties of Yahad and Shas running on one list - in this case we would."
However, Deri flatly dismissed the reports in an interview with Army Radio and claimed that Shas would gain strength in the next election. "Shas has excellent Knesset members," said Deri. "We don't need stars and reinforcements."
"Shas will not only return to its seven seats in the upcoming elections, but it will also increase its number of Knesset seats," Deri continued. "I say this - unequivocally, you can interview me immediately after the elections," added Deri.
Deri also denied that Shas would run together with the Lithuanian haredi UTJ party in order to ensure its entry into the Knesset. "It never happened, it's just talk," said Deri.
Deri said that despite media reports to the contrary, he never threatened to quit the coalition if the Supermarkets Law didn't pass. "No one wants to go to elections," Deri said. "Netanyahu is also determined to complete this term in full."
Yishai split off from Shas after he was deposed by current head Aryeh Deri. In 2015, Yahad ran on a joint list with the Otzma Yehudit party, led by former Kach party activists, including one-time National Union MK Michael Ben-Ari and Baruch Marzel, as well as attorney Itamar Ben-Gvir.
While most polls showed Yahad crossing the 3.25% minimum electoral threshold required to enter the Knesset, the party came up short, receiving 125,158 votes, or about 2.97% of all valid ballots and about 13,000 short of the threshold.
Despite the failure, Eli Yishai announced in November that he will run again in the next Knesset elections, and announced a party membership drive, promising that "Yahad will be a part of the government."
Recent polls have shown that Shas is in dire straits, with a Channel 10 poll in November showing that Shas would not pass the electoral threshold if elections were held today.
Shas' decline from the 17 seats it won in 1999 has been attributed to several factors, including the death of party founder and Sephardic icon Rabbi Ovadiah Yosef and the ongoing police investigations into party leader Aryeh Deri and his wife for alleged money laundering, fraud, breach of trust, theft, fraudulent registration, numerous tax offenses, and corruption.
Reports have been swirling that Shas' leadership has been holding secret talks with deposed leader Eli Yishai regarding his potential return to the party, should current leader Aryeh Deri be indicted.