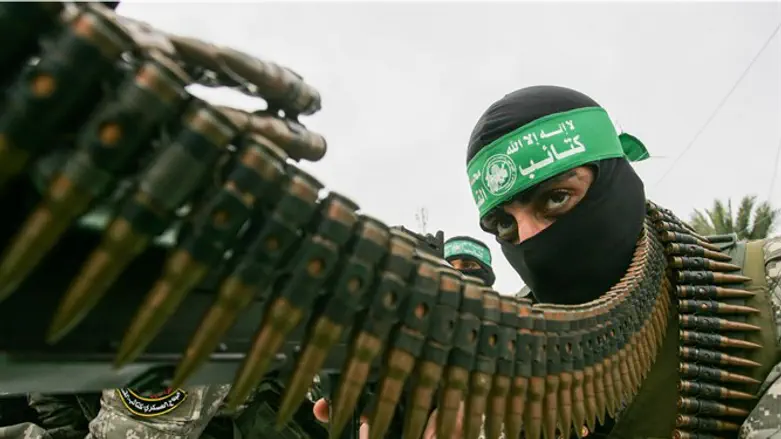 Hamas terrorist
Flash 90
The Hamas terrorist organization declared on Wednesday that "Al-Quds [in its entirety] is the eternal capital of Palestine, not its eastern or western part, and is an Arabic Islamic city."
The statement, released in honor of the 30th anniversary of the founding of Hamas, is in response to U.S. President Donald Trump's recognition of Jerusalem as Israel's capital.
Recognition of Jerusalem as the capital of the State of Israel will not cancel the right of the Palestinian national and religious people to the city, and Al-Quds will remain an Arab Islamic state, Hamas stressed.
The terrorist group further stressed that it was continuing the path of liberation and the resistance in all its aspects until the last layer of historic Palestinian land is liberated, noting that it "bombed occupied Tel Aviv that was established on our occupied land in Jaffa."
The statement also called for an end to the Palestinian Authority's security coordination with Israel and stressed that the "right of return" is a private and collective right that cannot be revoked by any party.
Earlier this week, Mahmoud al-Zahar, a member of Hamas's political bureau and one of the leaders of the terrorist organization, vowed that the group would continue the path of resistance "in order to liberate every inch of Palestine from the filth of the occupation."
"The promise of Allah will come true in the security system of the world to come, in which Al-Quds is linked to the Al-Aqsa Mosque," he said.
In a message to Israel, Zahar added, "Beware of the power of Hamas and the power of the [Al-Qassam] Brigades."