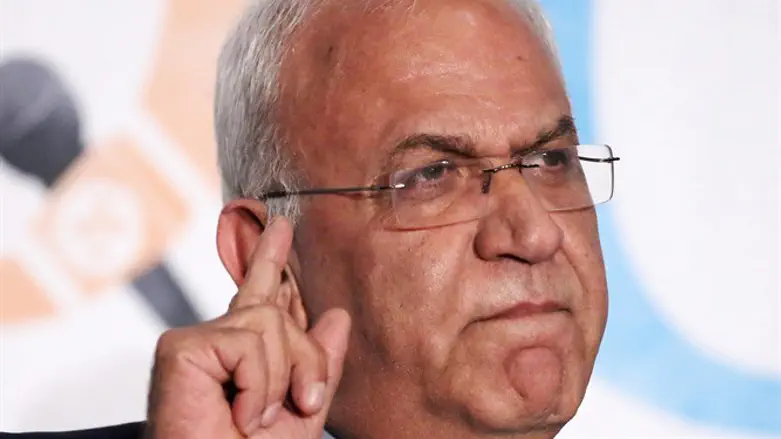 Saeb Erekat
Reuters
A senior Palestinian Authority negotiator and a perennial critic of Israel was spotted recently at an Israeli hospital.
Saeb Erekat earlier this year blasted US Ambassador to Israel David Friedman for claiming that Jewish communities built in beyond the pre-1967 Green Line were part of Israel, including Jewish neighborhoods in eastern Jerusalem.
Erekat, who serves as the Palestine Liberation Organization (PLO) secretary general and has served as the PA's senior negotiator, has also accused Israel of "war crimes", "massacres", and "genocide".
In 2013, Erekat accused Israel of applying a policy of apartheid in Judea, Samaria and eastern Jerusalem.
Despite his accusations of Israeli "genocide", the senior PA official nevertheless checked in to an Israeli hospital recently, and was spotted Monday night as he was taken in for a CT scan.
In a report by Channel 20, Erekat was seen in Petah Tikva's Beilinson Medical Center. Hospital officials confirmed that Erekat had checked into the hospital for treatment.
Erekat, 62, recently underwent a lung transplant in the United States after he was diagnosed with pulmonary fibrosis, a respiratory disease caused by the formation of scar tissue inside the lungs. As the scars form, breathing becomes increasingly difficult and painful, and the lungs less able to bring oxygen into the body. This in turn often results in heart failure.
The senior PA official had placed himself on a waiting list for a lung donation in Israel, but later found a donor in the US.