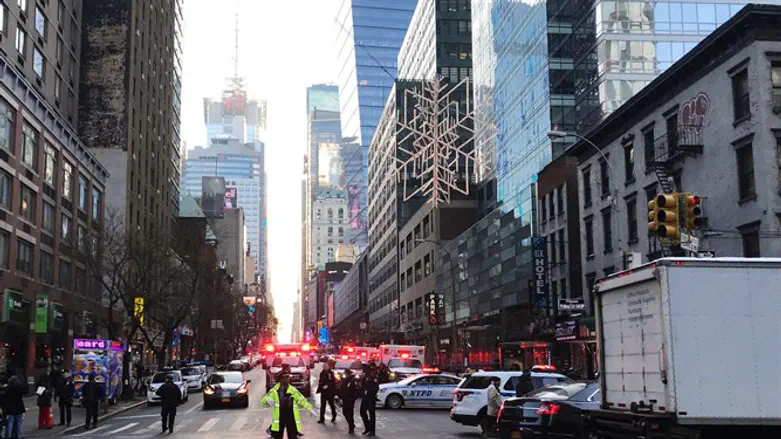 site of Manhattan bombing
Reuters
The suspect in an attempted suicide bomb attack on the Port Authority Bus Terminal in New York City has been charged with supporting an act of terrorism and making terrorist threats.
Akayed Ullah, 27, of Brooklyn, also was charged with criminal possession of a weapon, the New York Police Department said Tuesday morning. Federal terrorism charges are expected next week, according to reports.
Ullah, who is said to be of Bangladeshi origin and reportedly worked as a cab driver, spoke with authorities at Bellevue Hospital after suffering injuries when the homemade pipe bomb strapped to his body detonated early during Monday's morning rush hour. The bomb exploded in a tunnel connecting the Times Square subway station with the Midtown Manhattan transit hub.
CNN cited an unnamed law enforcement source who said Ullah said he was upset with an unspecified "incursion into Gaza."The New York Times reported that he told investigators that he set off the bomb in retaliation for U.S. airstrikes on ISIS targets in Syria and elsewhere, while NBC cited law enforcement officials as saying he did it in the name of ISIS to avenge the deaths of Muslims around the world.
The Washington Post reported that a pro-Islamic State media group, Maqdisi Media, publicized that the attack was carried out in response to President Donald Trump's announcement last week that the United States recognizes Jerusalem as Israel's capital, citing the SITE Intelligence Group, which monitors extremist activity.
Ullah has lived in the United States for seven years after entering as part of a visa program available to those with relatives who are U.S. citizens. He reportedly has never appeared on a terror watchlist in Bangladesh.
Police on Monday raided the family home and questioned Ullah's wife, Jannatul Ferdous Piya, 25, and her father. Investigators believe he acted alone, however.
At a news conference Monday, New York Mayor Bill de Blasio called the attack on the subway system "incredibly upsetting."
"And let's also be clear," he said, "this was an attempted terrorist attack. Thank God the perpetrator did not achieve his ultimate goals."