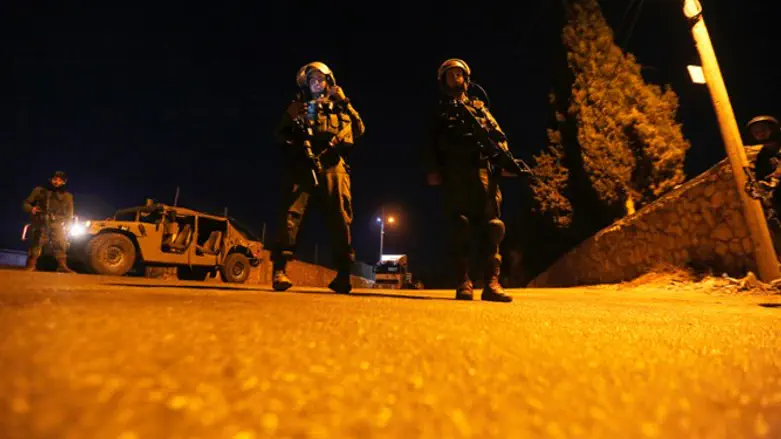 IDF soldiers stand guard after attack (archive)
Wisam Hashlamoun/Flash90
Terrorists opened fire on an Israeli passenger bus carrying students near the town of Ofra in Samaria, north of Jerusalem Sunday night, damaging the vehicle.
No injuries were reported in the attack.
Students on board the bus were returning home to various Israeli communities in Samaria following studies in Jerusalem.
Authorities say the bus was damaged during the attack, and some of its windows were shattered.
The bus was passing near the Arab village of Ein Yabrud at the time of the shooting, west of Ofra and northeast of Beit El.
Shortly after the attack, IDF forces stationed in the Binyamin region of Samaria began searches for the terrorists responsible for the attack.
According to an IDF spokesperson, 11 bullet casings were found near the scene of the attack.
"Earlier this evening, shots were fired at an Israeli bus near Ein Yabrud, northeast of Beit El. No injuries reported, but the bus was damaged. 11 bullet casings were found in the area. IDF troops are searching for the suspects"
The shooting attack comes just hours after a 24-year-old Arab terrorist from Shechem stabbed an Israeli guard in front of the Jerusalem central bus station, leaving the guard seriously wounded.
Israeli security forces have been on elevated alert status since last Wednesday's declaration by President Donald Trump recognizing Jerusalem as Israel's capital city and announcing plans to relocate the US embassy from Tel Aviv to Jerusalem.
Thousands of Arab rioters clashed with security forces in Jerusalem, Judea, and Samaria on Friday as part of a "Day of Rage". One Arab rioter was killed and at least 100 injured.