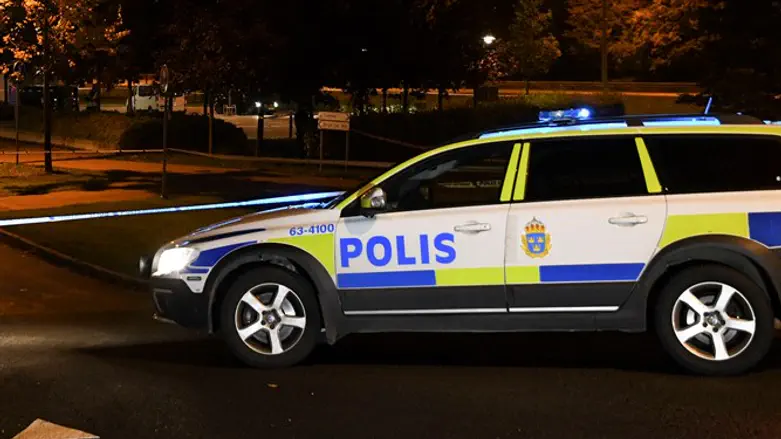 Swedish police (illustration)
Reuters
JTA - Three people were arrested in connection with the firebomb attack on a synagogue in Gothenburg in southern Sweden.
The arrests were made early Sunday morning, hours after more than a dozen men hurled firebombs at the synagogue after locals marched in the city against the United States' recognition of Jerusalem as Israel's capital.
No one was injured in the Saturday night attack, which occurred while the synagogue was hosting a youth group program.
The Swedish Prosecution Authority announced the arrest. No information was provided about the people who were arrested.
Security around synagogues in the Swedish capital of Stockholm was increased, Reuters reported citing the TT news agency.
Swedish Foreign Minister Margot Wallstrom on Sunday condemned the attack and calls for violence against Jews.
"The attack against the Synagogue in Gothenburg and calls for violence against Jews in Malmo are deplorable and totally unacceptable. Anti-Semitism, threats and violence have no place in our society," she tweeted in English.
The Jerusalem-based Simon Wiesenthal Center on Sunday in a statement denounced authorities in Sweden for their "serial refusal to act against anti-Semitism."
Invoking the Saturday night attack against the synagogue in Gothenberg, Rabbi Abraham Cooper, the center's associate dean, said in the statement: "(W)hat more will it take for this democracy to finally deploy the full weight of their law enforcement and judicial powers against anti-Semites and provide full protection for its Jewish citizens?"
World Jewish Congress CEO Robert Singer in a statement issued Sunday called on all European governments to "make this message infinitely clear and enforced," that "(a)nti-Semitic violence will never be tolerated."
"We urge the Swedish authorities to take every measure possible to ensure the safety, security and well-being of its citizens. No person should ever have to live in fear or danger," Singer also said.
In October, an administrative court in Gothenberg ordered that a neo-Nazi march scheduled to march past the synagogue on Yom Kippur be rerouted.