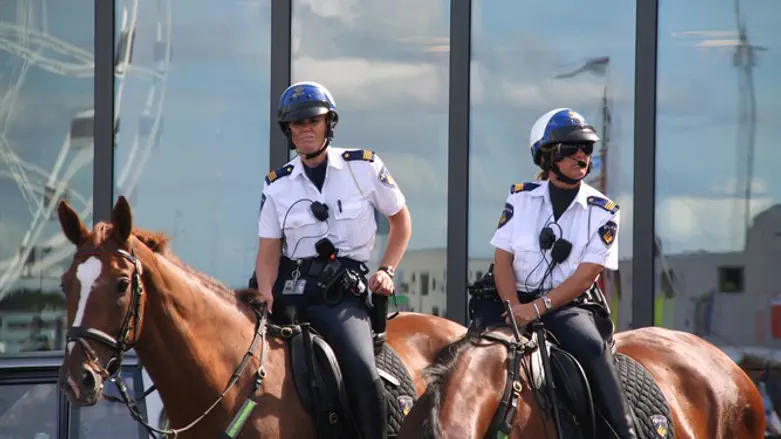 Amsterdam police officers
iStock
Police are investigating the smashing of the windows of a kosher restaurant in a heavily-Jewish part of the Dutch capital by a man wearing a Palestinian Authority flag.
The incident at HaCarmel restaurant occurred Thursday morning, hours after US President Donald Trump recognized Jerusalem as Israel's capital. The AT5 television station showed a video of the incident, in which a man holding a large stick while holding a Palestinian Authority flag and wearing a keffiyah on his head proceeds to smash the window and kick down the restaurant's doors as passersby and two police officers look on. The officers wait until he breaks into the restaurant. They pause as he returns out to the street from the restaurant's interior holding an Israeli flag that he took from there. He throws it at their feet. They then overpower the man and arrest him.
Contacted by JTA, an employee at HaCarmel declined to comment on the circumstances of the incident, which the Federative Jewish Netherlands group reported online with a pictures of a Dutch police officer kneeling in front of a shattered glass window, with a Star of David hanging on the restaurant's wall in the background.
"Jerusalem is recognized as the capital by the United States of America, so the windows of an Israeli restaurant in Amsterdam are smashed. Only logical. The Palestinian shawl (keffiyah -ed.) completes the story," Federative Jewish Netherlands wrote on Twitter.
"Shocking! It is unbelievable that the conflict between Israel and the Palestinians is playing out here, and against the Jewish Dutch community," the Center for Information and Documentation on Israel, which is the Dutch Jewish community's watchdog on anti-Semitic incidents, tweeted.
Last year, a Jewish woman, Victoria Waniewicz, was stabbed in her back outside another Amsterdam kosher restaurant, the Grand Cafe Rimon, by a Brazilian man whom a judge deemed unfit to stand trial because of insanity, and who was hospitalized in a psychiatric institution of his choosing for one year.
Police beefed up their presence around the restaurant and other Jewish institutions in the capital following the incident, according to the Federative Jewish Netherlands report.