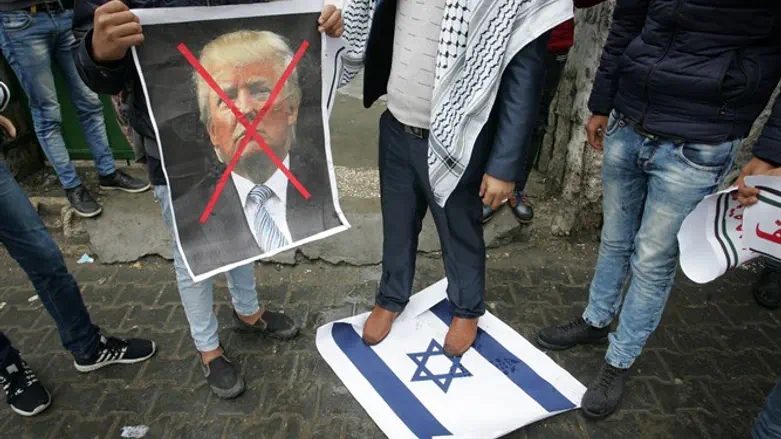 Free speech exercise in Palestinian Authority
Flash 90
The last day has seen a severe and extreme wave of incitement sweep the Palestinian Authority and Eastern Jerusalem against US President Donald Trump in the wake of his intention to declare US recognition of Jerusalem as the capital of Israel.
Among displays of incitement was a computerized processing of a photograph in which the American president appeared on the ground shot in the head and stomach in a shirt stained with blood.
In contrast to popular computer processing used against individuals in the United States and Israel, the computerized processing of this photograph appears very professional and at a high level of technical virtuosity.
The photo in question is on a Facebook page belonging to one "Silwan", which has more than 100,000 followers.The Lech Yerushalayim movement, which exposed the photograph, notes that it is not clear who the person or persons behind the page is and who is operating it.
Movement chairman Maor Tzemach notes that the footage in question is part of ongoing and growing wave of incitement in East Jerusalem against the United States and its President in recent hours.Among other things, he quotes from a statement published by the PA Education Ministry published in preparation this day now defined as a "Day of Rage" and can be seen as part of the motor driving the wave of incitement.
The Ministry said in a statement that the day of rage was set and would be marked "in all schools out of rejection of the American position on Jerusalem and the expected decision to move the American embassy to Jerusalem or to declare it as the capital of the occupation."
Throughout the course of the day, under the guidance of the PA Education Ministry, various activities were held in the PA educational institutions to denounce the American decision, speeches were made against the American administration, and students were required to observe a moment of silence because of the developments.