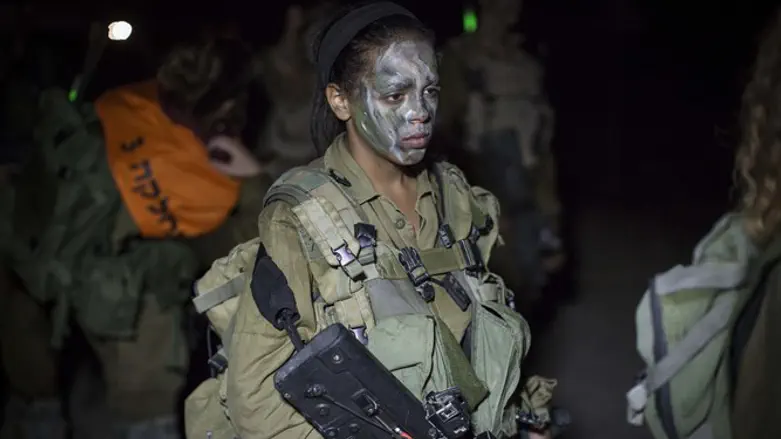 Karakal unit fighter
Flash 90
Israeli war hero Avigdor Kahalani, a brigadier general in the reserves and holder of the President's Medal and other commendations for honor and heroism, is worried about the inclusion of women fighters in armored forces.
In an interview with Roni Daniel on Radio 103FM, Kahalani referred to the fact that 13 female soldiers received tank commissions this week and joined the Karakal Battalion as tank fighters.
Brig. Gen. (ret.) Avigdor Kahalani
ILTV
Kahalani mentioned that he was one of the founders of the Karakal Battalion and noted, "I believe in women and support them, but as one who has been there, I don't think we've reached a situation where it's necessary to place women on the offensive level," Kahalani said.
"Women today sit on the line and I salute them, but I see a big difference between the attacking echelon who has to kill the enemy by order and the one who stands and watches with open eyes on the border.I'm speaking coming from compassion."
Kahalani added, "We know how to bring back fighters from the battlefield with post-trauma, blindness, missing hands and feet; is that what we need to happen to our daughters - my granddaughter should be a warrior with a knife between her teeth?
Karakal fighter collapsing stretcher on 16 km hike
Flash 90
"I think there's no need for the State of Israel to place women on the front line, to storm the canal at Beaufort.We need to return to sanity, it should not happen only because of equality.
"Women can operate the best systems in the State of Israel, women can do anything, but they must be protected against this," said Avigdor Kahalani.