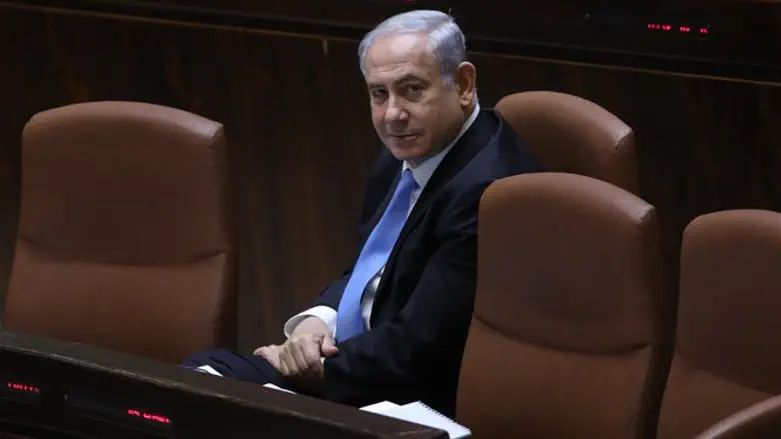 Netanyahu
Yitzhak Harari, Knesset spokesperson
Prime Minister Binyamin Netanyahu remains by far the most popular candidate for the premiership, a new poll shows, with Israeli voters favoring the incumbent by double-digits over his likely general election challengers Yair Lapid and Avi Gabbay.
According to the poll, which was publicized on Monday and conducted by the Midgam polling agency on behalf of Channel 2, Prime Minister Netanyahu retains wide leads over the leaders of the two parties most likely to challenge the Likud in the next general election.
The poll, which surveyed 525 Israeli adults, shows that 39% of Israelis believe Netanyahu is best suited to serve as Prime Minister, compared to just 19% who said Zionist Union chief Avi Gabbay was better suited.
Former Finance Minister and Yesh Atid chairman Yair Lapid fared slightly better, winning the backing of 20% of respondents, compared to 35% who said Netanyahu was better suited.
The poll also showed Likud regaining its lead over Yesh Atid in a general election, after the last Midgam poll, released in late November, showed Yesh Atid tying the Likud at 24 apiece. Monday's poll shows Likud holding steady at 24 – a decline since the 2015 election, when the party won 30 mandates – while Yesh Atid fell to 22 seats since the previous poll. That still represents a significant improvement over the party's 2015 showing, when it won just 11 mandates.
The Zionist Union, a joint list of the Labor party and Hatnua faction headed by former Justice Minister Tzipi Livni, came in third with 18 seats, a decline of 6 compared to the 24 it currently holds.
Education Minister Naftali Bennet's Jewish Home party would gain 4 mandates over its current 8, rising to 12. Tied with the Jewish Home for fourth place is the predominantly Arab Joint List, which won 13 seats in 2015 but fell by one mandate in the latest poll to 12.
Defense Minister Avigdor Liberman's Yisrael Beytenu party, the far-left Meretz party, and the haredi United Torah Judaism party all gained seats in the poll, rising to seven mandates apiece.
Finance Minister Moshe Kahlon's centrist Kulanu party, which currently has 10 seats, fell to 6, while Interior Minister Aryeh Deri's Shas party fell from 7 to 5.
Overall, Prime Minister Binyamin Netanyahu's current coalition partners would lose a combined six seats compared to the results of the last election in 2015, falling from 67 seats to just 61, while the opposition parties would rise from 53 to 59.