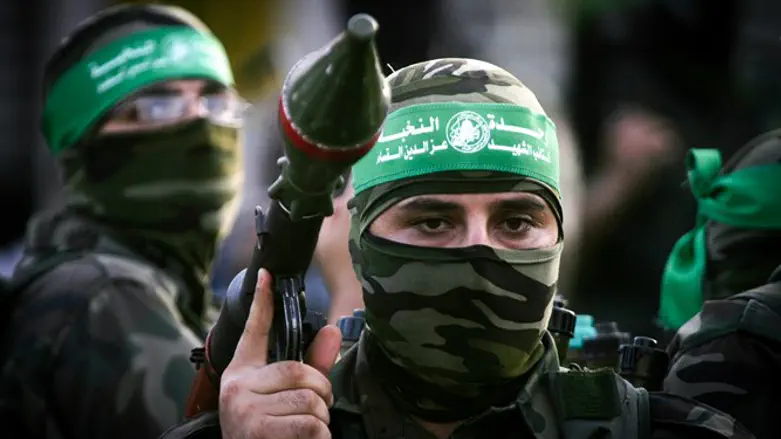 Hamas terrorists in Gaza
Abed Rahim Khatib/Flash 90
Hamas called Saturday for a new "intifada" if Washington recognizes Jerusalem as the capital of Israel or moves its embassy from Tel Aviv to Jerusalem.
"We warn against such a move and call on the Palestinian people to revive the intifada if these unjust decisions on Jerusalem are adopted," Hamas said in a statement.
Any decision to move its embassy there would be "a flagrant attack on the city by the American administration" and give Israel "a cover for continuing its crime of Judaizing the city and emptying it of Palestinians," it said.
The last intifada, or uprising claimed the lives of some 1,000 Israelis between September 2000 and February 2005.
Palestinian Authority chairman Mahmoud Abbas' office told AFP on Friday that American recognition of Jerusalem as the capital of Israel would "destroy the peace process."
Saeb Erekat, Executive Secretary of the Palestine Liberation Organization (PLO), on Friday said that "any American recognition of Jerusalem as the capital of Israel will bring about the end of the Jerusalem issue. This issue is weighty and dealing with it is playing with fire."
Congress passed the Jerusalem Embassy Act in 1995, requiring the president to move the embassy to Israel's capital. Under the law, the president may delay implementation of the act for security reasons, renewing the waiver every six months.
Trump repeatedly promised to move the US Embassy to Jerusalem during his election campaign, but in June decided to keep it in Tel Aviv, at least temporarily.
The next deadline comes on Monday, and some in Washington suggest that Trump is planning a speech on the issue next week, before his deputy Mike Pence heads to Jerusalem.
The White House has described reports he may refuse to sign the waiver as premature - but sources told AFP they expect Trump to formally declare Jerusalem Israel's capital.