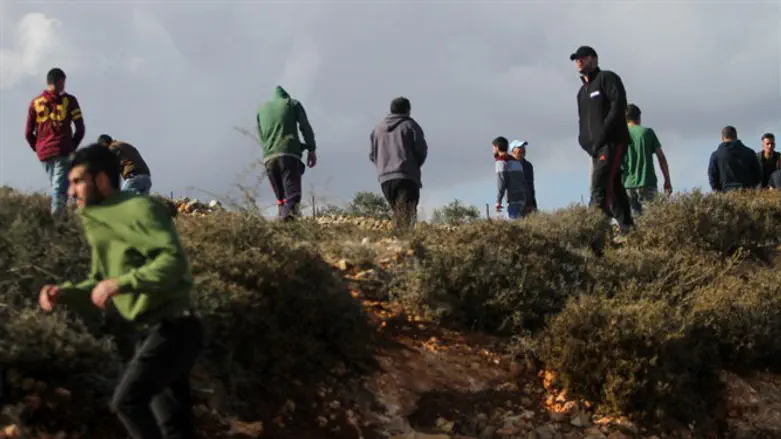 Arab stone-throwers who assaulted Israeli children near Kusra clash with IDF
Nasser Ishtayeh/Flash90
Agriculture Minister Uri Ariel (Jewish Home) condemned Thursday's lynch attempt in Samaria and called on the IDF to catch those responsible.
"Today there was a severe and intolerable incident where a group of hikers was attacked by a crowd of wild Arab rioters during a bar mitzvah trip," said Ariel.
According to Ariel, the parents who protected the lives of the children during the lunch attempt are heroes. "The rioters from the infamous village of Qusra tried to murder Jewish children, whose only sin was traveling in Samaria. The rioters also grabbed the weapon of one of the parents who was injured and robbed the children of their cellphones."
"The IDF and the defense establishment must capture and prosecute any offender and, of course, immediately return the weapons and equipment," emphasized Ariel.
Some 25 children and two adult escorts had departed on the trip, which took place a significant distance from Arab villages.

At a certain stage, dozens of Arab rioters began to attack the participants in a planned ambush. The rioters threw stones and rocks at the children and the youths, and the group was forced to take refuge along the steep cliffs nearby, thus facing danger to their lives both from the rocks thrown at them and the dangerous terrain.

Miraculously, the group found a cave in the area, where it hid until the arrival of the army. During the stay of the young men in the cave, the rioters attempted to enter the cave and lynch the hikers.
A military source said the boys were on a private bar mitzvah trip and were hiking from Migdalim toward Kida. Dozens of rioters then arrived in vehicles, attacked the boys and lightly injured three of them. A parent of one of the youths who was escorting the group was forced to open fire on the attackers.
We started the hike by walking from Migdalim to Kida," said Avitzur Libman, a 13-year-old who took part in Thursday's hike. "In the middle of the walk, after we had passed [the Arab] village Kusra, and when we were already pretty far from Kusra, we spotted this cave."
"They started to throw stones at us," continued Libman. "We had two armed escorts. One had a pistol, the other an M-16 [assault rifle]."