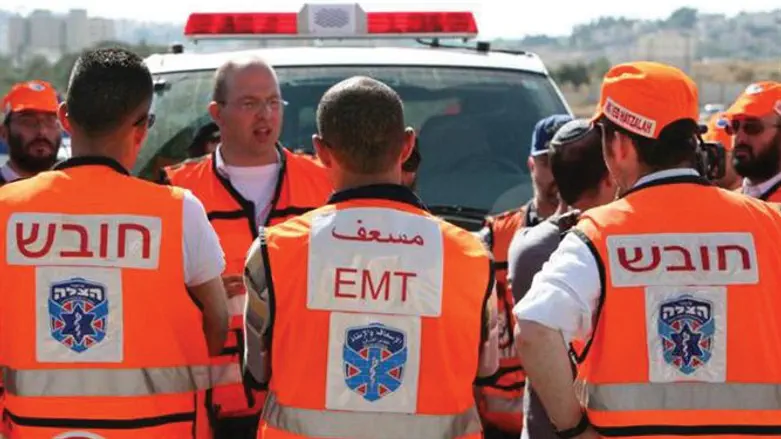 Hatzalah EMTs (illustrative)
United Hatzalah
United Hatzalah volunteers across Israel respond on average to some 900 emergency calls every single day.
On Wednesday morning, a story occurred which offers a glimpse into the often forgotten side of how volunteering as an EMS can affect the lives of volunteers and their families.
Volunteer EMT Daniel Nahari on Wednesday morning responded to an emergency call, after a person was found unconscious and required emergency CPR. This type of emergency call can be lengthy and require the emergency medical service volunteers to remain at the scene for some time, often more than an hour.
Nahari was preparing to take his son to school, but responded to the call since he was one of the closest EMS volunteers to the location of the incident. It took a few moments to arrive at the scene, but Nahari remained there for some time.
Needless to say, his son Ariel was late for school. Nahari therefore sent a letter to his son's teacher on a United Hatzalah notepad that read: "Dear Rabbi, please excuse my son for being late to school today, since his father was performing CPR on a stranger. May we only hear good tidings. - Daniel Nahari"
Ariel's teacher accepted the note, and expressed his appreciation for Daniel's work as a volunteer emergency responder.