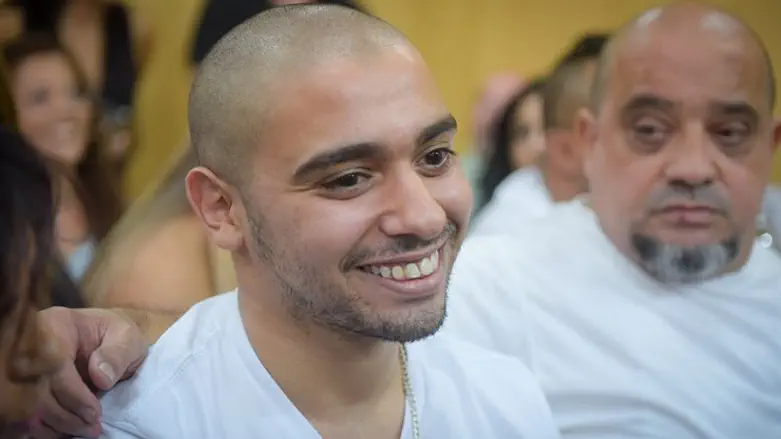 Elor Azariya
Photo by Avshalom Sasoni/POOL
Prime Minister Binyamin Netanyahu signed a petition on Monday calling on President Reuven Rivlin to reconsider the granting of amnesty to Elor Azariya, the IDF soldier convicted for shooting a wounded terrorist.
The petition was initiated by MK Sharon Gal (Yisrael Beyteinu), who is close contact with the Azariya family.
The president's residence responded that "the letter in question has not been accepted by the president's office, and when it is accepted, it will be accepted as is customary in the president's home."
"In addition, it is important to remember that according to the policy used in the handling of pardons over the years, a renewed request for amnesty can be submitted only six months after the president's decision was made in the previous application of the convicted person, unless there is a material change in the circumstances of the application."
Last week, President Rivlin rejected Azariya's request for a pardon.
The President's Office released Rivlin's written response turning down Azariya's request.
"From examining the material before him, the President learned that in passing sentence, the military court took into account the circumstances raised by you - which appear in part in this pardon request - as considerations for leniency, and noted it took them into account in passing a lighter sentence.
"In addition, in September 2017, the Chief of Staff saw fit to further ease your sentence and reduce the punishment by four months from the prison sentence imposed upon you, for reasons of compassion and while taking into consideration your military service as a soldier in the operational arena.
"As such, the President concluded that taking all considerations into account and in light of the above, an additional lightening of your sentence would harm the resilience of the Israel Defense Forces and the State of Israel. The values of the Israel Defense Forces, and among them the Purity of Arms, are the core foundation of the strength of the Israel Defense Forces, and have always stood strong for us in the just struggle for our right to a safe, national home, and in the building a healthy society.
"In his decision, the President took into account the fact that you are expected to face a committee in approximately three months, to consider your release."