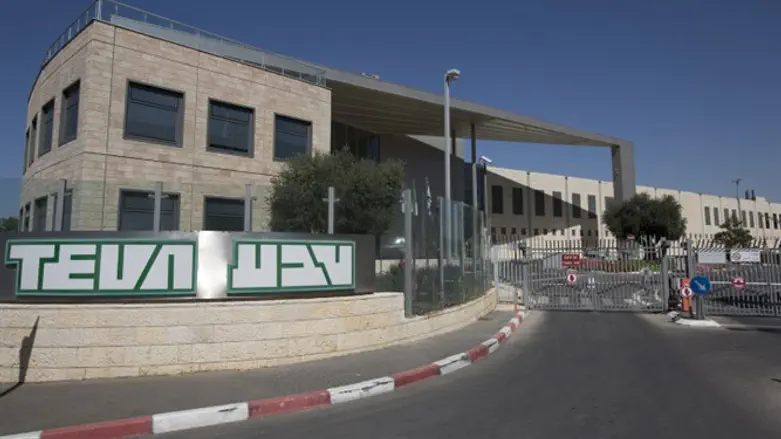 Teva offices
Flash90
Pharmaceutical giant Teva is preparing to sack thousands of employees in Israel and the United States, including one quarter of its Israeli workforce, a business newspaper said Thursday.
Israel-based Teva, the world's biggest manufacturer of generic drugs, will sack 25 percent of its 6,860 employees in Israel and more than 10 percent of its 10,000-strong workforce in the US, Calcalist daily said.
The Israeli newspaper did not cite any sources for its report and a Teva spokesman contacted by AFP declined to comment on what he described as "market rumors."
Teva shares in the United States have taken a plunge this year as the company has faced harsh financial woes.
In December 2016, Teva agreed to pay US authorities $519 million to settle charges that it paid bribes to foreign officials to win business in Russia, Ukraine and Mexico.
And in February it said it was under investigation by Israeli police for suspected bribery of foreign officials.
Calcalist said letters informing employees of their redundancy would be sent out by Teva in the next few weeks.
According to the newspaper, Teva's Danish chief executive Kare Schultz is fine-tuning details of the company's restructuring, working closely with deputies in Israel and the United states.
Schultz succeeded Erez Vigodman whose resignation was announced earlier this year.
At the time, Israeli media said the company took action after a series of decisions prompted investors to lose faith in Vigodman's leadership.
Teva head of research and development is among those to be sacked, Calcalist said.
In August, Teva announced it would be shutting down operations at six factories this year alone, and nine others in 2018, as well as cutting its workforce by around 7,000 employees.
On Thursday, Teva shares closed up 4.61 percent on the Tel Aviv stock market.