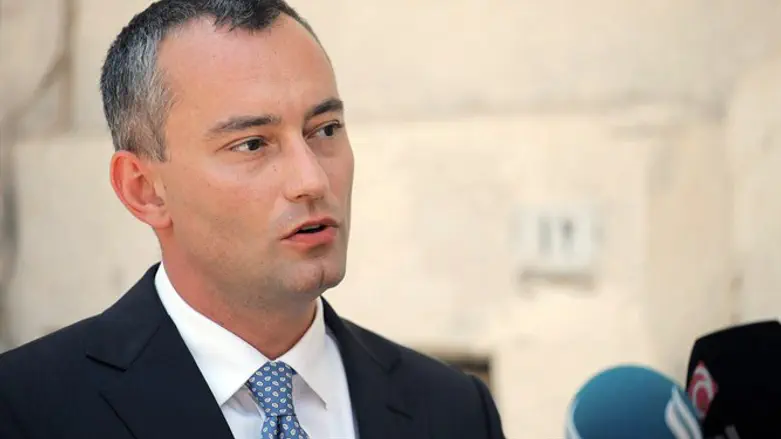 Nickolay Mladenov
Reuters
The UN envoy for the Middle East, Nickolay Mladenov, on Monday expressed support for the reconciliation efforts between Fatah and Hamas, warning that conflict is likely to once again engulf Gaza if a deal on the return of the Palestinian Authority to the Hamas-controlled enclave fails.
Addressing the Security Council on the eve of talks in Cairo between Palestinian factions, Mladenov said, according to AFP, that the Egyptian-led "process must not be allowed to fail."
"If it does, it will most likely result in another devastating conflict," he warned.
"Whether it would be triggered by a meltdown of law and order in Gaza, by the reckless action of extremists or by strategic choice, the result will be the same - devastation and suffering for all," said the UN envoy.
Fatah and Hamas signed a reconciliation deal last month, under which the Palestinian Authority (PA) is to resume full control of Hamas-controlled Gaza by December 1.
The PA has since assumed control of Gaza's border crossings but there are still disagreements, particularly over the fate of Hamas's armed wing.
Leaders from 13 Palestinian Arab factions, including Hamas and Fatah, will meet Tuesday in Egypt to discuss how the PA can return to Gaza.
Over the weekend, the Rafah border crossing between Egypt and Gaza was reopened for three days, marking the first time it has opened since the PA took control of the crossing.
"Two million Palestinians in Gaza have high hopes that the government's return will improve their lives," Mladenov said Monday, according to AFP.
"After living in abject misery under Hamas control and locked in by the closures, their situation is close to exploding," he warned.
Israel has reacted coolly to the Hamas-Fatah deal, saying it will not negotiate with a government that includes Hamas if the group does not disarm and cut ties with Iran.
In his remarks Monday, Mladenov also expressed concern about a row between the United States and the Palestine Liberation Organization (PLO) over the PLO's office in Washington.
The State Department said on Saturday it would not renew the permission for the PLO office to operate in Washington unless the PA starts peace talks with Israel.
Addressing the dispute, Mladenov said, "Only through constructive dialogue can we hope to advance peace and I call on all parties to remain engaged."