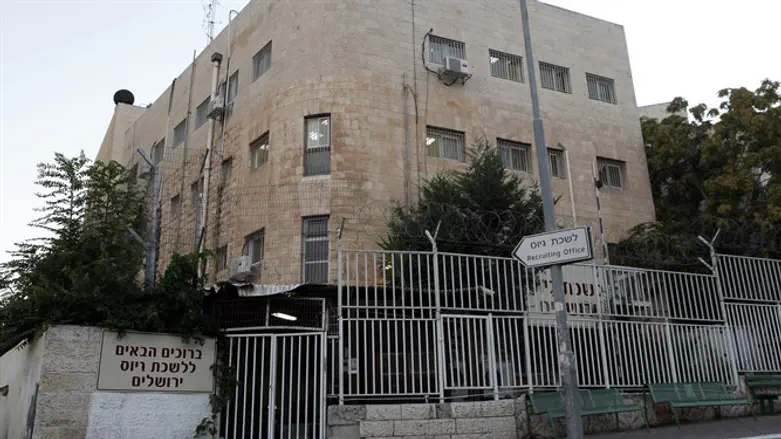 Jerusalem draft office
Uri Lantz, Flash 90
Religious youths who arrived for their first induction appointment reported being asked several problematic questions during their personal interview, Army Radio reported Monday.
One of the youths said that during his interview, which took place in the Jerusalem draft office, "they asked what I would do if I were in Elor Azariya's shoes, or what I would do in a situation in which Jewish law mandates I shoot, but my commander tells me not to."
"The interviewer said he doesn't like asking either of those questions, but he doesn't have a choice," he added.
The youth also said he was asked for his opinion on whether women should be integrated into combat units, but the answer they recorded him as giving did not match his personal opinion.
Another youth, who reported to the draft office in Be'er Sheva, said, "During the interview, they asked me what I would do if I were in Elor Azariya's shoes. I felt like they had marked me as a religious soldier. They also asked if I had ever distanced myself from religion."
"I felt really hurt that they asked me such personal questions about my life and my beliefs."
An IDF spokesperson responded, "The purpose of the personal interview is to get to know the personalities and lifestyles of those who will serve in the security forces. These specific questions are not on the list of questions to ask in the personal interview."
"After hearing this report, we emphasized again the IDF's policies on the subject, in order to avoid future incidents."
Elor Azariya was convicted of manslaughter in January for shooting a wounded terrorist he suspected of having an explosive vest.
In February, an IDF court sentenced Azariya to 18 months in prison, a ruling that was upheld by the IDF Court of Appeals in July. On Sunday, Israeli President Reuven Rivlin rejected Azariya's request for pardon.