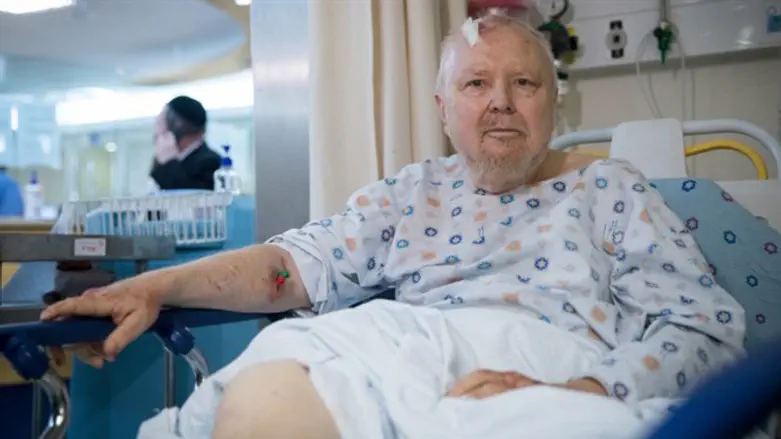 Gush Etzion attack victim, David Ramati
Yonatan Sindel/Flash90
David Ramati, injured in Friday's ramming terror attack, spoke of the incident that took place near Efrat in Gush Etzion.
In an interview on Niv Raskin's morning TV program on Channel 12, he noted that the day after the attack he received a phone call from the American embassy.The spokesman asked how he was doing, wished him a speedy recovery, and congratulated him for his quick response during the attack, a response that prevented more serious injury.
The spokesman noted that he made the call in President Trump's name, who wished him, an American citizen, well. Ramati noted that a phone call had come from the American President while Israeli Prime Minister Netanyahu had not yet initiated a conversation with him.
Ramati said that his condition is good and he is expected to be released to his home today.He told how he saw the vehicle of the terrorist approaching him at a speed of ninety kilometers an hour, and after seeing the driver's smile, realized that he was in a terrorist attack. "I told myself that I had three seconds if I wanted to live or not and jumped over to the vineyard next to the road." As he jumped the car hit him and threw him a distance of about twenty feet.
The condition of the second casualty in the attack, Evenezer Hulhering, a 35-year-old resident of Kiryat Arba, remains critical. He is being treated in the intensive care unit at Hadassah Ein Kerem Hospital, where he is on respiration and sedation after surgery.