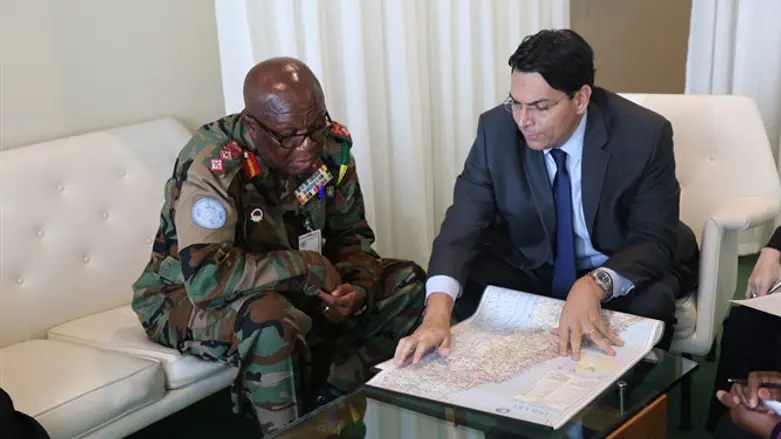 Ambassador Danon and Major General Francis Vib-Sanziri
Israel's UN Mission
Israel's Ambassador to the United Nations, Danny Danon, met this week with Major General Francis Vib-Sanziri, the new commander of the UN Disengagement Observer Force (UNDOF) stationed on the Israeli-Syrian border.
During their meeting, Danon expressed to the Commander that Israel would not accept the presence of Iran or its proxies, such as Hezbollah, in the vicinity of the border or in the Quneitra region.
"Israel will do all that is necessary to ensure the security of its citizens and will not allow for any threat to its sovereignty," Ambassador Danon said during the meeting.
"The international community must act immediately against Iran's aggression and their attempts undermine stability in the region," he added.
Danon several months ago presented new information to the Security Council revealing that Hezbollah had established a series of outposts along the border with Israel under the guise of agricultural NGO "Green Without Borders".
The UN, however, rejected Israel's claims, saying that "Green Without Borders" members have planted trees in the area, but it "has not observed any unauthorized armed persons at the locations or found any basis to report a violation of resolution 1701."
Mossad Director Yossi Cohen later provided an assessment that the Iranian regime is expanding its control across the Middle East through proxy forces in Syria, Lebanon, Iraq, and Yemen.
(Arutz Sheva's North American desk is keeping you updated until the start of Shabbat in New York. The time posted automatically on all Arutz Sheva articles, however, is Israeli time.)