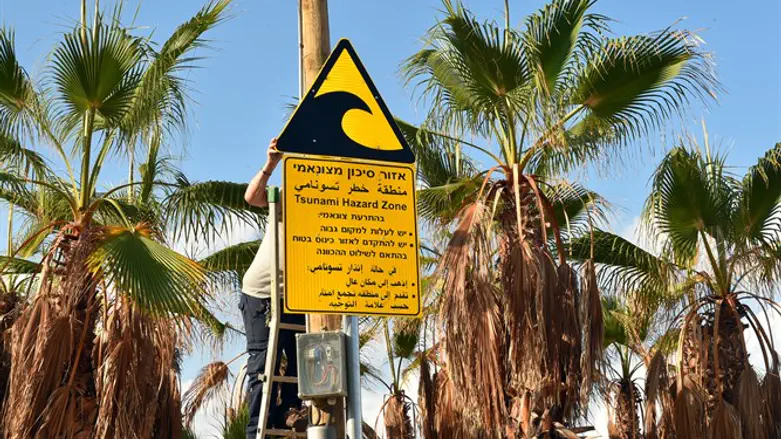 Tel Aviv's new signs
Ariel Hermoni, Defense Ministry
The Tel Aviv-Jaffa municipality, Israel Police, and National Emergency Management Authority (NEMA) mapped out potential areas which could potentially flood were a tsunami to strike Israel, as well as routes to emergency gathering places.
On Sunday, visitors to Tel Aviv's Gordon Beach noticed a sign detailing how to act in case of a tsunami. Other new signs mark the escape routes, high places, where to find shelter in a building, and which areas are safe.
NEMA Chairman Bezalal Traver said, "Earthquakes are a natural occurrence in our area, and cannot be avoided. We don't know when an earthquake will occur, how strong it will be, or which area it will strike. However, the more we prepare for the earthquake and its consequences, the better able we will be to aid citizens in case of disaster."
Tusnamis are earthquakes in the ocean floor.
Authorities are working on a similar project for Haifa, after which they will continue on to create plans for and hang signs in Israel's other coastal cities.