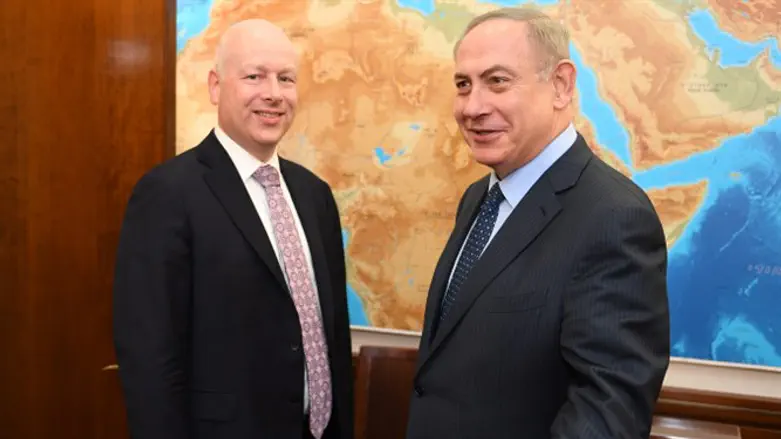 Jason Greenblatt meets Binyamin Netanyahu
Flash 90
A senior White House official denied suggestions Sunday that President Trump's special envoy Jason Greenblatt criticized Binyamin Netanyahu over the proposed 'Greater Jerusalem' law during a meeting on Sunday.
The bill, which was proposed by Transportation Minister Yisrael Katz (Likud), would annex 19 cities and towns in Judea and Samaria to the capital, adding some 150,000 Jews to Jerusalem's population.
But sources in Washington say the Trump administration is concerned the proposal could derail its plans to push regional peace talks even before negotiations begin.
This prompted speculation that Greenblatt's meeting with Netanyahu on Sunday included a rebuke of the Netanyahu government for publicizing the proposal.
A senior Trump official denied the link, however, calling the meeting a "check-in", during which the Greater Jerusalem bill was not mentioned.
"Jason and the ambassador met with the prime minister as a general check-in on peace conversations. They did not meet to discuss the annexation bill," the source claims.
On Saturday, Prime Minister Netanyahu announced that he was delaying discussion of the "Greater Jerusalem Law", which had been planned for the weekly meeting of the Ministerial Committee for Legislation on Sunday.
Sources in the US government added Sunday that President Trump remains "personally committed to achieving a peace deal between Israelis and Palestinians that would help usher in an era of greater regional peace and prosperity."
But the source reiterated that Washington was not interested in forcing a final status agreement on Israel.
"While these regional talks will play an important role, the President reaffirms that peace between Israelis and Palestinians can only be negotiated directly between the two parties and that the United States will continue working closely with the parties to make progress toward that goal. No deal will be imposed on Israelis and Palestinians, we are committed to facilitating a deal that improves conditions for both parties."