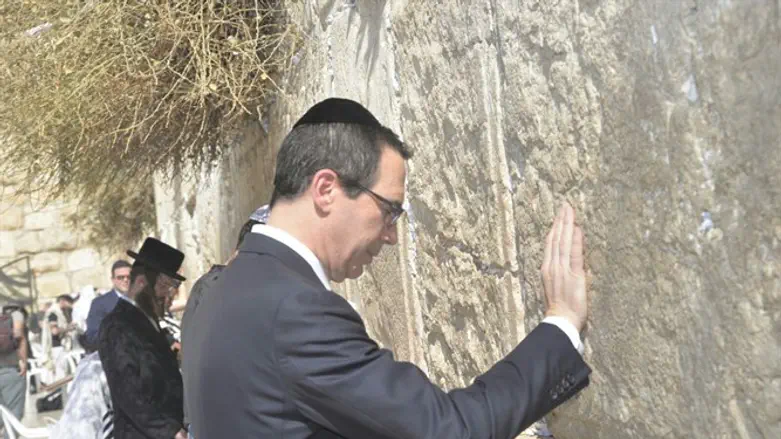 Steven Mnuchin at the Western Wall
The Western Wall Heritage Foundation
US Secretary of the Treasury Steven Mnuchin and his wife Louise Linton on Friday visited the Western Wall (Kotel) with US Ambassador to Israel David Friedman and his wife Tammy Sand.
Jerusalem Mayor Nir Barkat, Western Wall Rabbi Shmuel Rabinovitch, and Western Wall Heritage Foundation CEO Mordechai Eliav met the visitors in the Kotel plaza.
Rabbi Rabinovitch told Mnuchin that his visit to the Western Wall, as a Jew visiting the beating heart of Jewish history, expresses the Jewish people's eternal connection to its heritage and shows the partnership and deep connection between the two countries.
Mnuchin and his wife took time to pray at the Kotel and placed a note between the stones.
Writing in the Kotel's guest book, Mnuchin said he had been deeply moved and prayed for "health and peace. It was a moment of consideration and great intensity. This is a time of peace and prosperity."
Steven Mnuchin visits the Western Wall
Western Wall Heritage Foundation