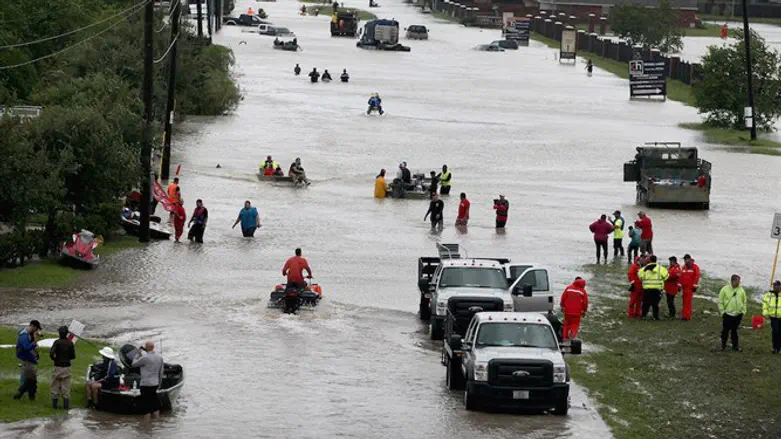 People making their way out of a neighborhood flooded by Hurricane Harvey
Scott Olson/Getty Images
A northern Texas state representative said that a town that asked its residents to certify that they do not participate in boycotting Israel in order to receive hurricane aid was due to "confusion" over a new state law.
Republican State Rep. Phil King authored state legislation against BDS, or boycotts of Israel, earlier this year. The legislation went into effect last month.
"It's not uncommon to have some confusion when a new law goes into effect. This bill in no way applies to the type of situation that happened in Dickinson," King, who has been a state legislator since 1999, told the Israeli daily Haaretz in an interview on Saturdaynight.
The website for the town of Dickinson is accepting applications for individuals and businesses who need assistance following Hurricane Harvey, which devastated the area in August. According to the application, those who sign must verify that the applicant "(1) does not boycott Israel; and (2) will not boycott Israel during the term of this Agreement."
Dickinson City Management assistant Bryan Milward attributed the clause to a state law, signed in May, that requires all state contractors to certify that they are not participating in boycotts of Israel. Milward emphasized that the city will not be verifying compliance with the clause and said he doesn't expect any applications to be rejected because of it.
Dickinson, a city of about 19,000, was hit especially hard by Harvey. More than three-quarters of its homes were damaged by the hurricane, and 830 were destroyed, according to Milward.
King told Haaretz that the situation in Dickinson does not apply to the law, because "they had private contributions from citizens to a relief fund in the city, and the city has set up a grant program to give those funds to help in disaster clean-up and restoration. Those are not taxpayer dollars, so the law by no means applies to these relief efforts."
King told the newspaper that the state "needs to take steps to clarify things, so that something like this doesn't happen again."
King said of the legislation: "This is what the bill is about. This is America. If you're an individual or a company and you want to boycott Israel, that's your right to do so. We just won't put our taxpayer money into it."
Israel sent several teams to Texas to help with hurricane relief, and three Israeli rescue organizations - Magen David Adom, ZAKA, and United Hatzalah - sent personnel to help victims. Some of these volunteers remained in Texas for several weeks after the hurricane. IsraAID also sent volunteers, and the Israeli government donated $1 million in aid to Harvey's victims.