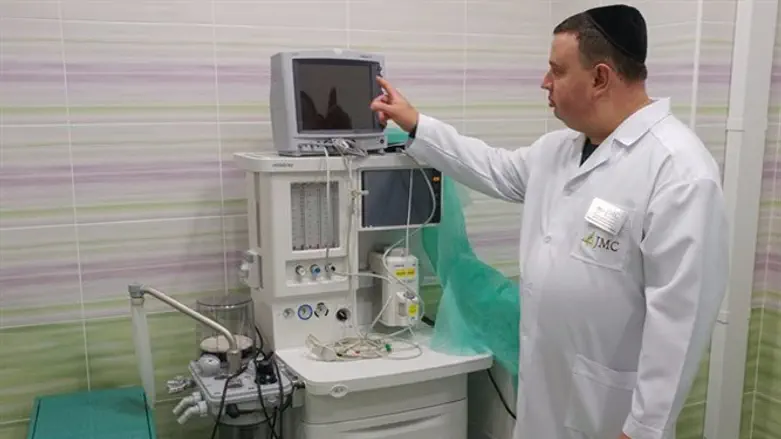 Prof. Aleksandr Rodinsky
Arutz Sheva
Jewish history is being made in the Ukraine: Within a few days, a 90-year-old man will experience the historic Jewish ritual commandment of Brit Milah.
The historic event will take place at the new medical center that was recently established in the Menorah compound in the city of Dnepropetrovsk. The rabbi and 28-year Chabad shaliach (emissary), Rabbi Shmuel Kamenetsky, is behind the tremendous project that enjoys close professional guidance from the best local doctors.
The Medical Center was recently established by Rabbi Kamenetsky as part of a chain of Jewish projects established in recent years thanks to his extensive activity for the benefit of the local Jewish community.
Partners in establishing the hospital are the Boston Jewish Community and the Joint Distribution Committee (JDC). The clinic was established under the leadership of community president Gennadiy Bogolyubov.
Heading the Jewish Medical Center (JMC) is Prof. Aleksandr Rodinsky, considered a leading physician in his field. It receives Jews who have not received medical treatment of all ages, from early childhood to the elderly who experienced the Holocaust.
In a conversation with Arutz Sheva, Rabbi Kamenetsky explains why he established the medical center at Menorah."Beyond my mission to spread Judaism, we are often involved in literally saving lives," he says."Not a day goes by here without actually saving a life."
According to him, the Jewish community uses the medical center's services because of the professionalism that characterizes the medical services there, but no less because of the Jewish affinity and the warm treatment patients receive.
"The local Jewish population is partly comprised of the elderly, and there are quite a few Holocaust survivors here," says Rabbi Kamenetsky. "As part of my mission, I see a supreme goal in extending the life span of the Holocaust survivors to whom we owe our lives and our future."