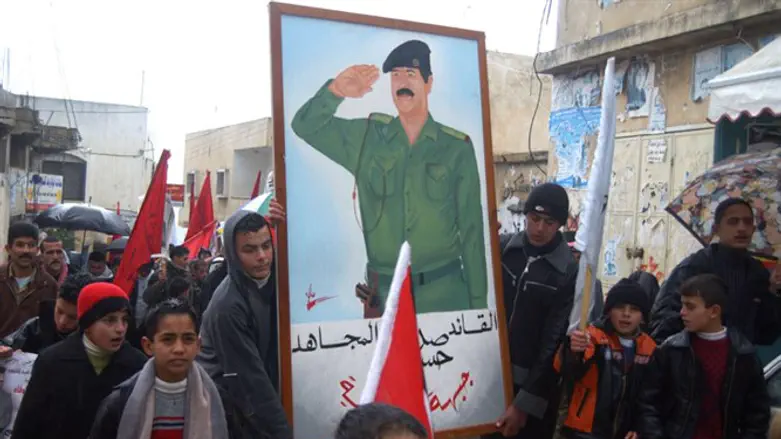 Saddam Hussein
Flash 90
The city of Qalqilya, under PA jurisdiction, has recently erected a memorial and named a street in honor of former Iraqi dictator Saddam Hussein, MEMRI reported. Arab leaders expressed appreciation for Hussein at the dedication ceremony, hailing him as "an emblem of heroism, honor, originality and defiance."
According to the report, the monument bears the inscriptions "Saddam Hussein – The Master of the Martyrs in Our Age," and "Arab Palestine from the River to the Sea -" a favorite mantra of Hussein's.
The report documented the unabashed praise PA leaders had for Hussein at the dedication ceremony. Qalqilya District Governor Rafi' Rawajba said that "Saddam was an emblem of heroism, honor, originality and defiance, as was the martyr Yasser Arafat. [Both served as] a compass for the Arabs and their resolute decisions, and when they departed, Arabism departed with them. President Abu Mazen (Mahmoud Abbas, ed.) makes sure to follow in the footsteps of these two great leaders." He added that "The absence [of Saddam Hussein] is the absence of Arabism, since after his departure, the rebels dispersed in every direction, for he was the patron of [all] rebels."
City Council member Hani Ja'idi said that "loyalty to the martyrs is proof of adherence to rights and principles that shall not wane as long as honorable people uphold them... This monument commemorates the martyrs and great leaders."
Similarly, Arab Liberation Front secretary Rakad Salam reviewed "the glorious deeds of the martyr Saddam Hussein and his support for the liberation movements, in particular the Palestinian revolution and the PLO." Saluting Hussein and Arafat, he stressed the need to "deepen national unity in order to stand firm in the face of all the plots that are concocted against our people."