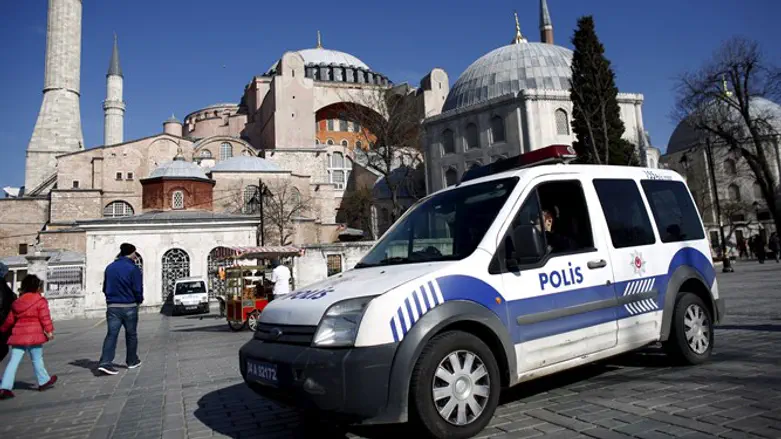 Bulgaria
Reuters
JTA - The Bulgarian government has adopted the international working definition of anti-Semitism and has appointed a national coordinator on combating anti-Semitism.
Bulgaria's Cabinet on Wednesday voted to adopt the International Holocaust Remembrance Alliance's definition of anti-Semitism, which was adopted last year by the Berlin-based IHRA. The Cabinet also appointed Deputy Foreign Minister Georg Georgiev as national coordinator on combating anti-Semitism to serve as a liaison to other countries and international organizations on dealing with the fight against anti-Semitism and hate speech, the Sofia Globe reported.
Bulgaria was admitted as an observer country to the IHRA in December 2012, and is taking steps to become accepted as a full member.
The definition of anti-Semitism, adopted by the alliance in May 2016, is: "Antisemitism is a certain perception of Jews, which may be expressed as hatred toward Jews. Rhetorical and physical manifestations of antisemitism are directed toward Jewish or non-Jewish individuals and/or their property, toward Jewish community institutions and religious facilities." The IRHA currently has 31 member states and 11 observer countries, including Bulgaria.
The Shalom Organization of the Jews in Belgium welcomed the decision, saying in a statement: "For the Bulgarian Jewish community, this is a serious call for an uncompromising attitude towards all actions that overwhelm common values such as tolerance, humanism and respect for human rights. We strongly support the Cabinet decision and wish Georg Georgiev success in his new mission."
The European Jewish Congress welcomed Belgium's decision to adopt the international definition of anti-Semitism.
"It is vital that, especially as antisemitism is on the rise across the continent, that governments, judiciaries and law enforcement agencies have all the necessary tools to combat hatred of Jews and other minorities," Dr. Moshe Kantor, EJC president, said in a statement. He also called Georgiev a "long-time friend of the Jewish community."
David Harris, executive director of the American Jewish Committee Global Jewish Advocacy and AJC Europe director Simone Rodan-Benzaquen met with Georgiev on Tuesday.
Next year, Bulgaria will officially mark celebrating in 2018 the 75th anniversary of the prevention of the deportation of the Bulgarian Jews and the Bulgarian Presidency of the Council of the EU.