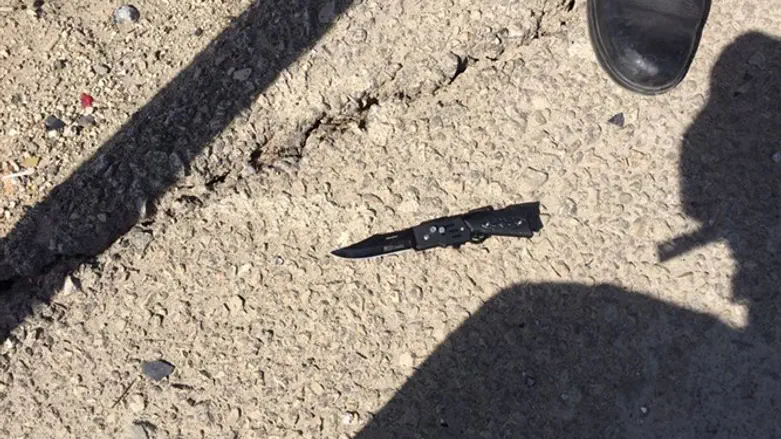 The terrorist's knife
IDF spokesperson
An Arab terrorist armed with a knife rushed at IDF soldiers near the Gush Etzion Junction, a main intersection protected by IDF combat soldiers since a spate of tragic terror attacks that occured at the crossorads which includes a bustling shopping center, several bus stops and parking lot.
The soldiers fired shots at the terrorists and arrested him.
The terrorist suffered severe injuries and was taken to an Israeli hospital for treatement.
None of the soldiers were reported harmed.
Two Jewish residents of the Old City were nearly lynched on Monday night near their homes not far from the Lions' Gate. Police arrested some of the attackers, who are now being interrogated at the Merchav David police station in Jerusalem.
On Tuesday night, the IDF arrested two men suspected of incitement, as well as 18 wanted terrorists. 15 of the terrorists were arrested on suspicion of involvement in "lone wolf" terror activity, disruption of order, and violence towards civilians and security personnel.