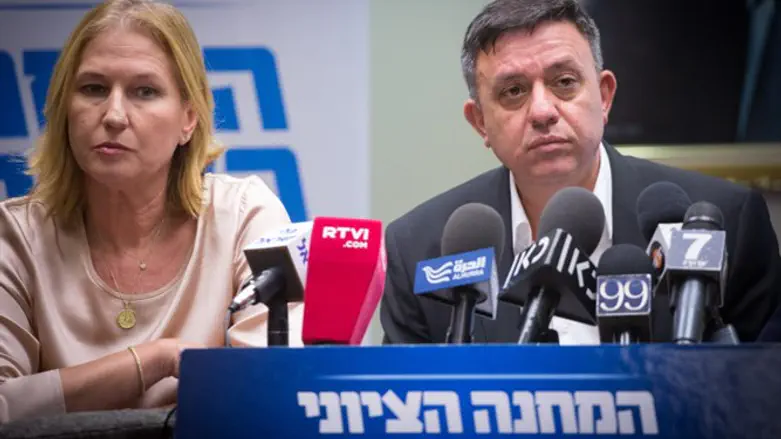 Avi Gabbay and Tzippy Livni
צילום: Miriam Alster/Flash90
Zionist Union chief Avi Gabbay refused to retract his recent statements opposing the eviction of Jewish communities in Judea and Samaria in a potential future peace deal with the Palestinian Authority, despite blowback he received from his Labor faction. Gabbay argued instead that Israel would need to find "creative solutions" about what to do with Jewish communities in Judea and Samaria in a future peace deal.
Speaking with Reshet Bet, Gabbay said that "I believe that the Land of Israel belongs to the Jews. God promised Abraham the entire Land of Israel, but I also believe that since there are 4.5 million Arabs here, we have to compromise in order to create a situation in which we live in our country with a Jewish majority".
"I want a Palestinian state for our own benefit, I don't care about the rights of the Palestinians," Gabbay added.
The Labor Party chairman said that his opposition to evicting Jewish communities is not an obstacle towards a future peace deal with the Palestinian Authority. "If we succeed in reaching a peace agreement, then I think that creative solutions should be found in order to avoid evacuating settlements ... The issue is very complex, but we must not make it even more complex by trying to evacuate 80 thousand Jews," said Gabbay.
Gabbay said that his remarks opposing evacuating Jewish communities in Judea and Samaria do not signal a change in his support for a Palestinian state, reminding the interviewer that he opposes building in Judea and Samaria. "Everyone deserves rights, but the Netanyahu government prefers the residents of Judea and Samaria," he contended.
Gabbay had said on Monday that he opposed evicting Jewish communities in Judea and Samaria and that signing a peace agreement with the Palestinian Authority did not automatically mean signing an agreement to evacuate Jewish residents.
His remarks caused a storm in the historically left-wing Labor party, with MK Tzippy Livni saying that "I am making it clear that Gabbay's statement that he will not evacuate settlements as part of a peace agreement is the position of the Labor chairman alone."
"This is not my position, not the position of Hatnua, and not the position of the Zionist Union," she added.
MK Ksenia Svetlova also distanced herself Gabbay's remarks and said, "Only a political settlement and separation from the Palestinians will ensure the existence of the State of Israel as a Jewish and democratic state. We have to carefully preserve what we can preserve and if not, we will lose everything."
Similar comments came from MK Nachman Shai, who tweeted, "We will have to separate from the Palestinians, we will have to evacuate settlements with pain and sorrow."
Members of the political establishment speculated that Gabbay was trending towards the right politically in order to present himself as a viable alternative to Prime Minister Binyamin Netanyahu. Several of his recent pronouncements bolster this view.
Gabbay said over the weekend that the Labor Party would not serve in the same government as the Joint Arab List. "I do not see anything that connects us to them."
"In order to reach a situation in which we form the next government, we need to have about 27 seats, and Lapid would need about 11 seats."
Yesterday, Gabbay said at a conference of Labor Party activists in Dimona that both Israelis and Arabs must understand that Israel is the stronger party.
"We have to understand a very simple thing - we are the strong ones here. They always scare us, but we are the stronger ones. We are stronger than the Arabs. We do not have to be afraid of them – the Arabs have to be afraid of us," Gabbay said.