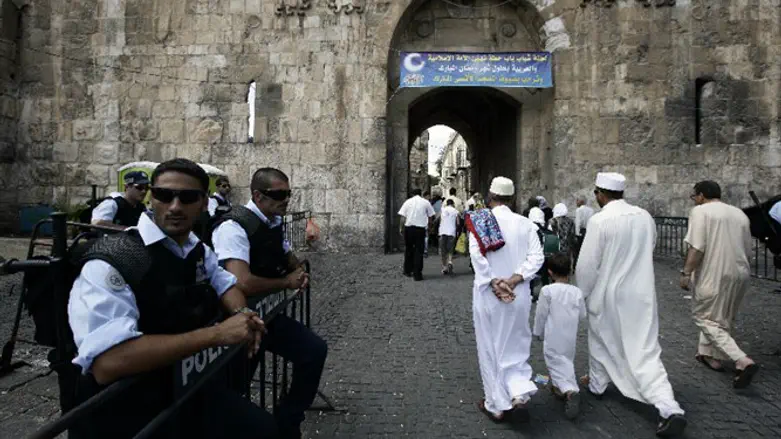 Lions' Gate. Archive.
Flash 90
Two Jewish residents of the Old City were nearly lynched last night near their homes not far from the Lions' Gate.
According to the Honenu legal organization, the attack started when one of the victims went outside to throw away the trash.
A number of Arabs approached him and began beating him. When a neighbor heard yelling, he rushed outside to help, only to be attacked.
The two suffered bruises all over their bodies, and one was evacuated to the hospital after suffering a head injury.
Relatives of the injured man said that the incident was reminiscent of the murder of Rabbi Nehemia Lavi not far away. Rabbi Lavi had rushed from his house to aid victims being stabbed by a terrorist, when he was also stabbed and murdered.
The complex of Jewish homes near the Lions' Gate suffers daily from attacks by Arabs. In recent months, Jewish homes have even been set ablaze by Arab rioters.
Police have arrested some of the attackers, who are now being interrogated at the Merchav David police station in Jerusalem. The victims of the attack are being assisted by the Honenu legal organization.
According to Honenu, "Last night, Jews were assaulted in Jerusalem, the capital of Israel, simply because they were Jews, and they were saved by a miracle."
"We expect police to arrest those involved and prosecute the terrorists to the full extent of the law.
"Unfortunately, the statements now coming out of Merchav David [do not reflect that this is the case], and we call on all officials not to again condone a serious attack against Jews," the organization said.