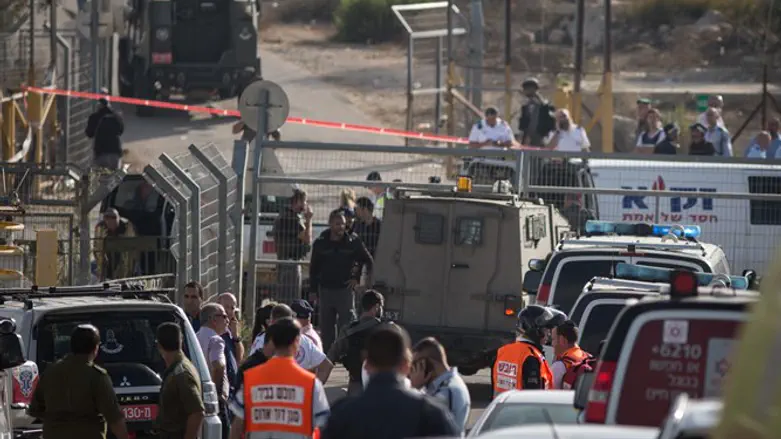 Scene of Har Adar shooting attack
FLASH90
Residents of Har Adar are up in arms over plans to permit Palestinian Authority Arab workers to enter the town, just weeks after one worker opened fire at security personnel stationed at the town's back entrance, killing three.
On September 26th, an Arab terrorist opened fire on security personnel after he was ordered to halt while attempting to enter Har Adar. Two guards and a Border Police officer were killed, while a fourth Israeli security official was wounded.
The terrorist, later identified as 37-year-old Nimer Mahmoud Ahmed Aljamal, was a resident of the nearby PA-controlled town of Beit Surik.
Armed with a stolen pistol and carrying a work permit allowing him to enter Har Adar, Aljamal had apparently planned to carry out a mass shooting inside the town, and had trained with the pistol before the day of the attack.
In the wake of the attack, army officials barred PA workers from entering Har Adar, and pledged to make improvements at the checkpoint workers must pass through at the entrance to Har Adar.
According to Yediot Ahronot, IDF Central Command chief General Roni Numa is slated to meet Monday with Har Adar's security coordinator to plan the reopening of the checkpoint and the return of PA workers to Har Adar.
Some residents, however, say they will protest the meeting and any plans to allow PA workers back into Har Adar.
"The success of this terror attack will encourage additional attempts," one resident wrote in the town's WhatsApp social media group. "The safety of my children is more important to me than their ability to make a living. Since the attacker did not fit the profile, it means anyone can be a potential terrorist."
Some, like Maya Daabul, said they would no longer hire PA residents after the shooting.
I don't plan on hiring them anymore. There is no chance that now, after the attack, they'll come into my home. It's terrifying. Terrorism breeds fear in us. The rules of the game have changed. I can't forget."
One Har Adar official argued that no PA workers should be permitted in Har Adar until the investigation into last month's shooting has been completed, and precautions to prevent future attacks have been undertaken.
"Residents are not willing to sweep the failings from this attack under the rug. They are not willing to open the checkpoint without first having an in-depth investigation and a serious discussion on the matter."