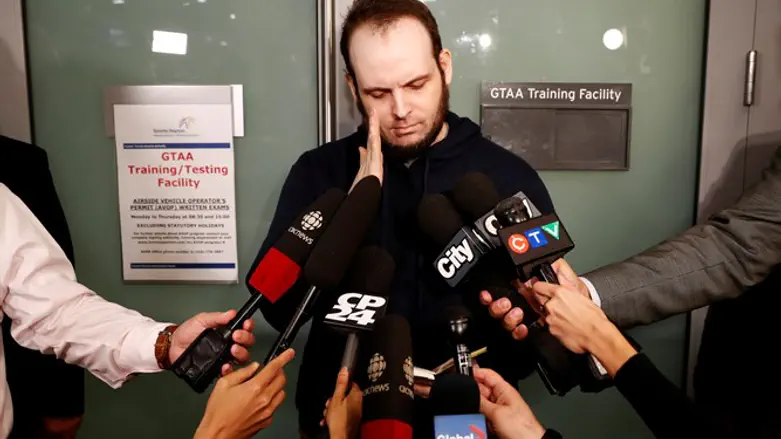 Joshua Boyle speaks to media after arriving in Toronto
Reuters
Joshua Boyle, the Canadian man who was freed with his family after five years of captivity in Afghanistan, said his captors authorized the murder of his child and raped his wife.
Boyle, his wife Caitlan Coleman, a US citizen, and their three children, were held in captivity by the Haqqani network, a militant group with ties to the Taliban in Afghanistan. Coleman was pregnant at the time of their capture, and all three children were born in captivity. The family was freed Thursday by Pakistani forces working on intelligence from US authorities.
Speaking to reporters after landing in Toronto, Canada, Boyle said that his captors did both deeds in retaliation for his "repeated refusal" to accept an offer for them. He did not state what the offer in question was.
"The stupidity and the evil of the Haqqani network's kidnapping of a pilgrim and my heavily pregnant wife engaged in helping ordinary villagers in Taliban-controlled regions of Afghanistan was eclipsed only by the stupidity and evil of authorizing the murder of my infant daughter, Martyr Boyle," Boyle said.
"And the stupidity and evil of the subsequent rape of my wife, not as a lone action, by one guard, but assisted by the captain of the guard and supervised by the commandant.
"Obviously, it will be of incredible importance to my family that we are able to build a secure sanctuary for our three surviving children to call a home...and try to regain some portion of the childhood that they have lost."
According to Boyle, he was captured while "helping the most neglected minority group in the world, those ordinary villagers that live deep inside Taliban-controlled Afghanistan, where no NGO, no aid worker and no government has ever successfully been able to bring the necessary help."
However, other reports say Boyle and Coleman were kidnapped while backpacking through Central Asia, and were unaware they had crossed into Afghanistan.
Boyle was previously married to Zaynab Khadr, the eldest daughter of Al-Qaeda financier and associate Ahmed Said Khadr and the elder sister of Omar Khadr, an inmate at the US military detention center at Guantanamo Bay.
The marriage ended and Omar Khadr was later released to Canada.