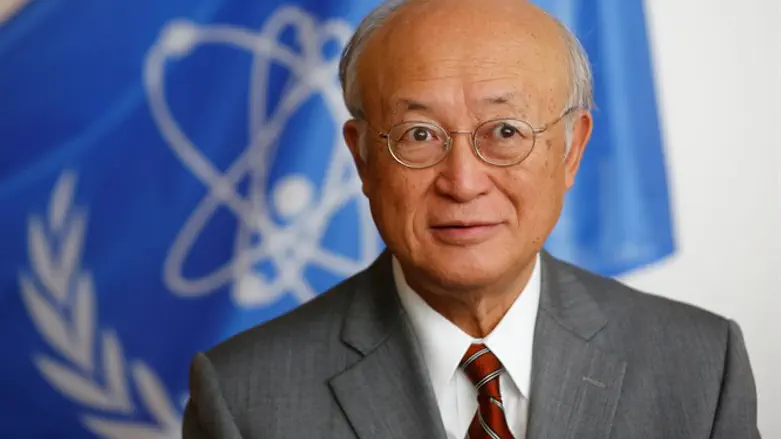 Yukiya Amano
Reuters
The head of the UN's atomic agency on Monday affirmed Iran's commitment to the 2015 nuclear deal.
"I can state that the nuclear-related commitments undertaken by Iran under the (nuclear agreement) are being implemented," International Atomic Energy Agency (IAEA) chief Yukiya Amano said in prepared remarks during a conference in Rome, according to the AFP news agency.
An IAEA report released last month had also affirmed Iran's compliance with the nuclear deal, which froze some of Tehran's nuclear activities.
Iran's stock of low-enriched uranium -- used for peaceful purposes, but when further processed for a weapon -- did not exceed the agreed limit of 300 kilograms (661 pounds), the report said.
It added that Iran "has not pursued the construction of the Arak... reactor" -- which could give it weapons-grade plutonium -- and has not enriched uranium above low purity levels.
Amano's statement comes as U.S. President Donald Trump contemplates whether to recertify Iran's compliance with the nuclear deal. He has a deadline of October 15 to do so.
While he recently confirmed that Iran is adhering to the nuclear agreement, he and other officials in the administration stressed that the President, who has been a vocal critic of the deal, still has reservations about the agreement.
During his United Nations speech several weeks ago Trump called the deal an "embarrassment."
The EU's diplomatic chief Federica Mogherini said on Monday that Iran's compliance with the accord had been verified on at least eight separate occasions.
It is time to "invest in international cooperation" and "open new channels and not destroy the ones we already have," she said by video conference, according to AFP.
It is "certainly not the time to dismantle them", she added.
Faced with the growing threat from North Korea, "we cannot afford to open a new front," Mogherini added.
Iranian Foreign Minister Mohammad Javad Zarif this week vowed a "proper response" should Trump not certify his country's compliance with the 2015 nuclear deal.
Zarif has several times fired back at Trump over his criticism of the deal. Two weeks ago, he warned that Iran may abandon the nuclear deal if the United States decides to withdraw from it.