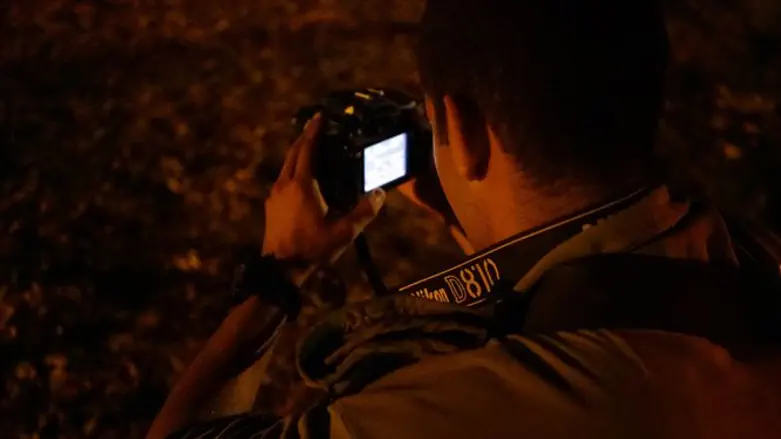 soldier with camera in the field
IDF spokesperson
As the old saying goes: 'A picture is worth a thousand words.' The IDF's Yahalom unit has taken that maxim one step further. The engineering unit for special missions has set up a multimedia division which is responsible for documenting all tasks carried out by the soldiers.
"There was always documentation in the unit, but there was never anyone authorized to deal only with this, someone who would bring the cameras, assemble the materials and prepare clear and prepared products," said the commander of the unit. "Until we established the section, we were dependent on soldiers who [already] knew how to photograph."
And what is the purpose of the photographs and video recordings? The commander explained that the photographs and footage are used to create an effective method for intelligence gathering. "The documentation files, which contain all the pictures and products we found, are transferred to the relevant authorities and to the command responsible for the sector in which we operate."
"Beyond that," continued the commander. "We are also building databases for the unit, which will help the soldiers get to know the area better. When we get to an area where we have already been operating, the commanders will be able to see everything that happened there in the past, and to know what the unit has done in the sector over the years. That way they will understand the region better and learn how to manage it."
החיילים שמתעדים את הפעילויות הסודיות ביותר
Results in the field
The change came in 2015. An officer of the "Yael" unit conceived the idea in order to make the archives more organized. "The moment I heard about the idea, I was enthusiastic and ready to take the task on myself," the commander said.
"Until then, I was editing products that were photographed by soldiers in the Yael reconnaissance unit, and after the decision I officially left my team - and I began to set up the [new] section.
"Today, too, there are a number of soldiers who receive a camera and undergo training to serve as photographers during activities," explained the commander. "Only now, they are receiving better unified training in one place."
"It is already possible to see the results of the work on the ground," the commander said. "There is no doubt that since we went into action, the commanders' conclusions are better, every company commander knows that he will not embark on complex operations without proper documentation [beforehand]. They come to us, study the department, and want to establish one in their unit."