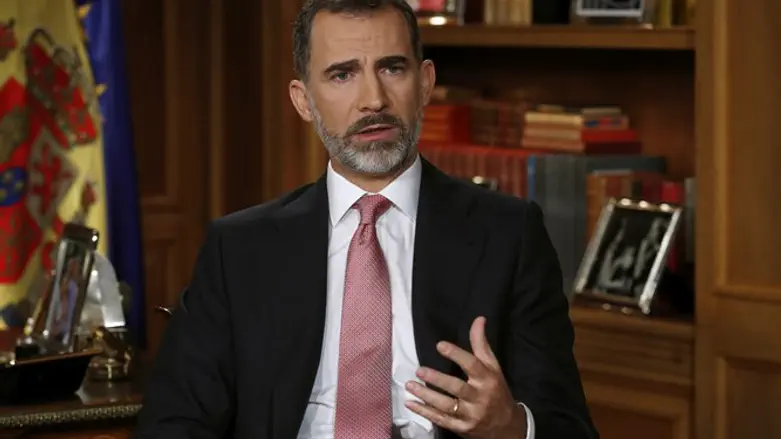 King Felipe VI
Reuters
Spain's King Felipe VI on Tuesday criticized the referendum in Catalonia and stressed he was committed to the unity of Spain, Reuters reports.
In a televised address to the nation, the Spanish King accused Catalan leaders of shattering democratic principles and of dividing Catalan society.
The king said the "irresponsible behavior" of the Catalan leaders had undermined social harmony in Catalonia.
"Today Catalan society is fractured and in conflict," he was quoted as having said.
The king added the Spanish crown was strongly committed to the Spanish constitution and to democracy and underlined his commitment as king "to the unity and permanence of Spain."
Catalonia held a referendum on independence from Spain this Sunday. The government claimed that 90 percent of voters backed independence.
The referendum is not recognized by the Spanish government. Spanish Prime Minister Mariano Rajoy declared after the vote that the referendum had been blocked, saying "today there has not been a self-determination referendum in Catalonia."
Clashes broke out during the referendum between voters and police officers cracking down on the referendum. At least 92 people were confirmed injured out of a total of 844 who needed medical attention, while 33 police officers required treatment as a result of the clashes.
Despite the Spanish government's refusal to recognize the vote, Catalonia's leader, Carles Puigdemont, told the BBC on Tuesday the region will declare independence in a matter of days.
In his first interview since the referendum, Puigdemont said his government would "act at the end of this week or the beginning of next".
When asked what he would do if the Spanish government were to intervene and take control of Catalonia's government, he replied it would be "an error which changes everything".