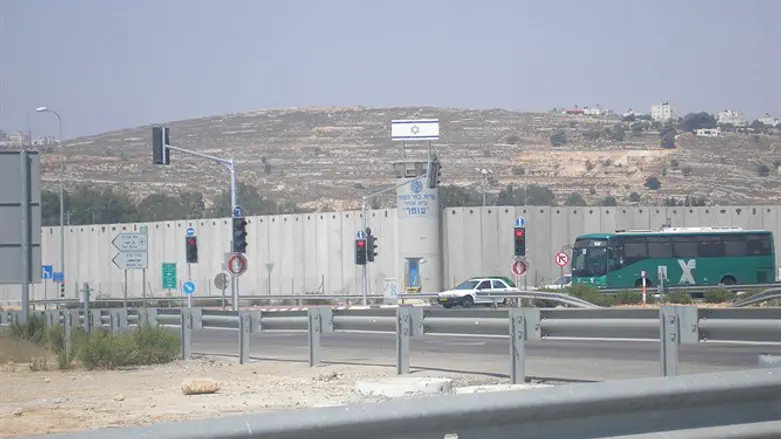 Ofer Prison
Arutz Sheva
Prosecutors indicted Ziad Shanti, Eli Turkey, Yaakov Ibergimov, Richard Pashnik, and Vladimir Grodinski Tuesday for smuggling cell phones, SIM cards, and batteries to Arab terrorists in Israeli prisons. The detainees, who were arrested Sunday, were denied bail and will be imprisoned until the end of the legal proceedings against them.
The five, which included Jewish Israeli citizens as well as Arab residents of Judea and Samaria, all worked at a canteen company which supplies refreshments and other goods to terrorists held at Israeli prisons.
An undercover investigation was launched at the end of August, after an Israel Prison Service (IPS) search of a crate of snacks and other goods for prisoners at the Ofer prison uncovered five cell phones and SIM cards.
A subsequent investigation revealed that the phones were intended for security prisoners at the Ofer prison.
Several days later, a minor brought a crate of drinks to the Ramon prison. The crate was also found to contain cell phones meant for security prisoners. The phones were unusually small, about the size of a finger, authorities say.
נחשפה רשת להברחת טלפונים למחבלים
Over the course of the investigation, authorities uncovered an organized plot to plant workers into the marketing company for the purpose of smuggling the phones to security prisoners through the company's shipments to prisons throughout the country.
The workers knew which prisons the shipments were sent to, and placed the phones in specific boxes of drinks accordingly.
After the plot was uncovered, one of the workers testified that they received thousands of shekels for each smuggled cell phone, ranging from NIS 8,000 ($2,250) for the tiny phones to NIS 15,000 ($4,250) for standard smartphones.
In March, former MK Basel Ghattas (Joint Arab List) was sentenced to a two-year prison term in addition to a two-year suspended sentence after he was caught smuggling cell phones to jailed Arab terrorists.