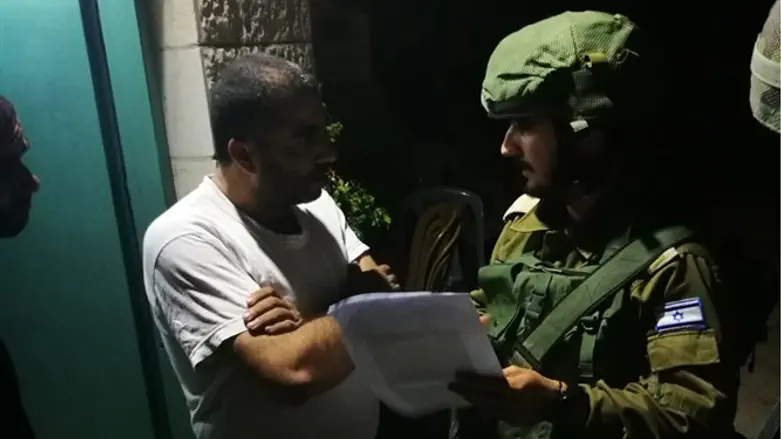 IDF unit delivers demolition notice
IDF Spokesperson
IDF units in Samaria will demolish the home of the terrorist responsible for last week's deadly shooting attack at the entrance to Har Adar, an army spokesperson reported Tuesday morning after a 72-hour notice was given to residents of the house in question.
Last Tuesday, the owner of the house, 37-year-old Beit Surik resident Nimer Mahmoud Ahmed Aljamal, drew a stolen pistol during a security check at the entrance of Har Adar and opened fire on security personnel, killing three and wounding one.
A Palestinian Authority resident who had been issued an Israeli work permit and had in the past worked in Har Adar as a cleaner, Aljamal attempted to sneak into Har Adar with the concealed firearm, but was stop for a pat-down check before he could enter the town.
According to a report by Channel 10, Aljamal had trained with the stolen firearm prior to the attack.
During the attack, Aljamal was shot and killed by security personnel.
In a pre-dawn operation early Tuesday morning this week, IDF forces in Beit Surik delivered notice of the planned demolition of Aljamal's house, giving those residing in it 72 hours to either vacate the property or file an appeal.
In a separate operation overnight, IDF forces in Judea found an illegal firearm in Hevron and thousands of shekels in terror funds in the nearby village of Idhna.
Joint efforts by the IDF, Shin Bet internal security agency, and Israel Police overnight led to the capture of eight wanted suspects across Judea and Samaria, including seven wanted for terror attacks against Israeli civilians and security personnel.