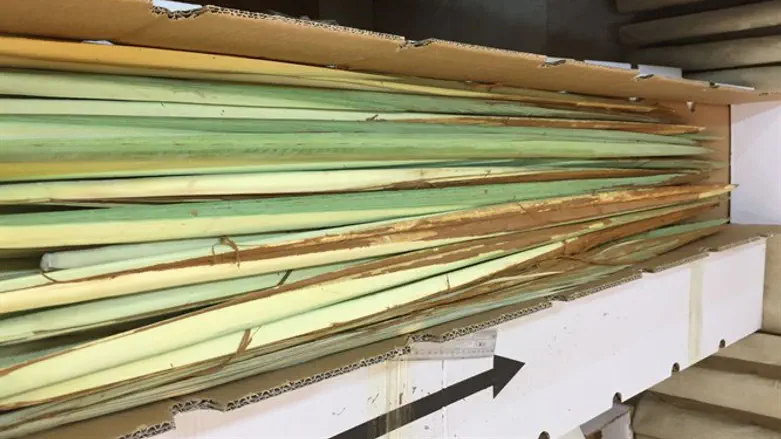 Lulavs imported from Gaza
Defense Ministry
Some 20,000 palm branches grown in the Hamas-controlled Gaza Strip were transferred to Israel ahead of the Sukkot festival.
The palm branches will be sold in Israeli markets for use as lulavs – one of the "four species" used during the Sukkot holiday.
The importation of the palm branches was conducted in coordination with the Defense Ministry, the Agriculture Ministry, and the Palestinian Authority's representatives in the Hamas-ruled Gaza Strip.
Trucks carrying the palm branches passed through the Kerem Shalom crossing point from Gaza, a spokesperson for the Coordinator of Government Activities in the Territories' (COGAT) Coordination and Liaison Administration of the Gaza Strip reported.
"Along with weekly shipments of tons of fruit and vegetables, we also coordinate one-time shipments like this one," spokesperson Uri Madar said.
Ami Shaked, manager of the Kerem Shalom crossing point, said some 800 trucks through the checkpoint every day.
"Some 800 trucks from Israel pass through Kerem Shalom a day on their way to Gaza and back, and like with any other shipment – and especially when we're dealing with agricultural goods, we make sure to facilitate quick crossings to preserve the freshness of the goods. After an examination process at the crossing, the lulavs are transferred to dealers and markets across the country."