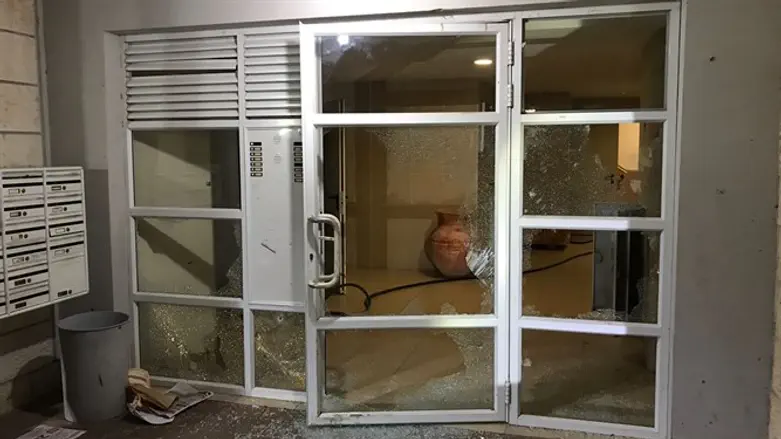 Entrance to the building after explosion
Police spokesperson
Two children were moderately injured, and another was lightly injured in an explosion that occurred Sunday evening in a residential building on Ben Zakai Street in the central Israeli town of Elad.
The three children, all 11 years old, were treated by Magen David Adom and United Hatzala paramedics and taken to Beilinson Hospital in Petah Tikva.
The police's preliminary investigation revealed that the children were playing with an M203 grenade launcher at the entrance of their apartment building, which exploded and caused their injuries. The police are investigating how the children came to be in possession of the grenade launcher.
The explosion caused damage to the building's gas line, authorities said. As a result, all residents were evacuated from the building. A gas technician summoned to the site is currently working to repair the damage, after which the residents will be allowed to return to their apartments.
Sivan Mashiach, a volunteer paramedic with United Hatzalah, said: "I provided emergency first-aid to an 11-year-old boy who was moderately to severely wounded, to another child who was moderately injured, to another child who was lightly to moderately injured. I also treated a woman who suffered from shock due to the nature of the incident."