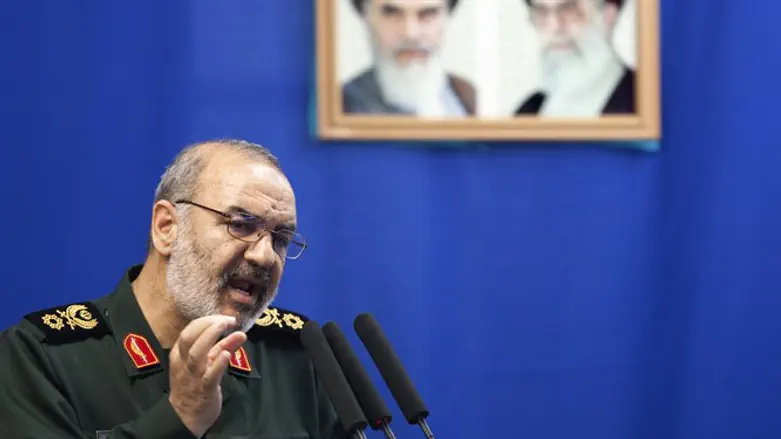 Hossein Salami
Reuters
General Hossein Salami, the Deputy Chief Commander of the Iranian Revolutionary Guards Corps (IRGC), said that Iran would be better off and more powerful without the 2015 nuclear agreement, adding that U.S. President Donald Trump can in no way pressure Iran through his threats to scrap the deal.
"We have not built our life on the basis of interaction with the U.S., as the life of the Iranian nation is independent from the Joint Comprehensive Plan of Action (JCPOA)", Salami said on Thursday, according to the semiofficial Fars news agency.
"If you intend to abort the deal, you'd better know that we pray God for this, because we would make better progress without the JCPOA," he continued.
Salami further said that the U.S. has no place among the geopolitical realities of the world today, adding, "This is what we believe and we live with it".
"The nuclear deal might be your only option, but it is no option for us at all," he added, urging Trump to focus on the huge crises that his nation is grappling with instead of starting new crises all over the world.
Trump has been a vocal critic of the deal Iran and Western powers signed n 2015. He has described the nuclear deal as "the worst deal I've ever seen negotiated" and accused the Islamic Republic of "disrespecting" the United States because of the deal.
In July, Trump warned Iran to adhere to the terms of the nuclear deal with world powers or "there will be big, big problems" for Tehran.
He reiterated his criticism of the deal in his speech before the UN General Assembly last week, calling it "an embarrassment" to the U.S. and "one of worst and most one-sided transactions the United States has ever entered into."
Trump is due to update Congress by October 15 whether Iran is in compliance with the nuclear deal.
While he recently confirmed that Iran is adhering to the nuclear agreement, he and other officials in the administration stressed that the President still has reservations about the deal.
Iranian officials have played down Trump's threats to scrap the deal. Iranian Foreign Minister Mohammad Javad Zarif made clear on Thursday that if the United States decides to withdraw from the deal, "Iran has the option of withdrawal and other options."
(Arutz Sheva's North American desk is keeping you updated until the start of Yom Kippur in New York. The time posted automatically on all Arutz Sheva articles, however, is Israeli time.)