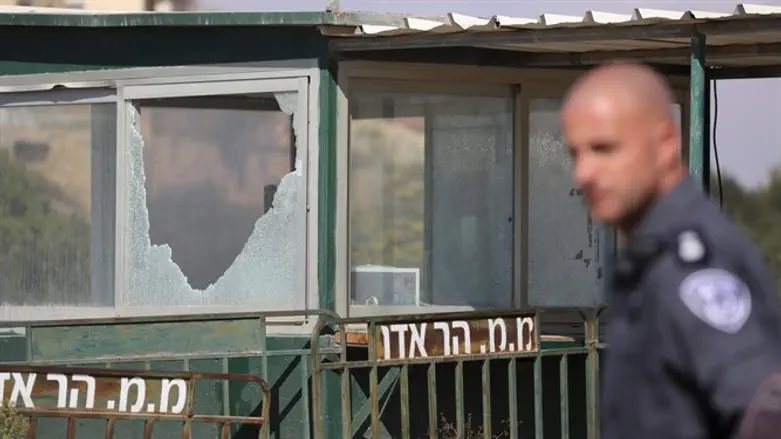 Scene of Har Adar attack
Yonatan Sindel/Flash 90
The Conference of Presidents of Major American Jewish Organizations strongly condemned Tuesday's terrorist attack in Har Adar in which three Israelis were murdered.
"We express our condolences and deepest sympathy to the families of those killed by the terrorists in this ruthless terror attack and offer our prayers for the recovery of those who were wounded," said Stephen M. Greenberg, Chairman, and Malcolm Hoenlein, CEO, of the Conference of Presidents.
They urged Palestinian Authority (PA) chairman Mahmoud Abbas and the PA to "end their incitement and rewards for terrorism against Israel."
"Hours after the attack, Hamas was celebrating and handing out candy on the streets. There is no justification for the glorification of brutal terror attacks. We are appalled by this behavior and by reports that the Palestinian Authority would make payments to reward the family of the terrorist," said Greenberg and Hoenlein.
"There can be no real prospect for progress on the conflict between Israel and the Palestinians until the Palestinian's end their policy of glorifying 'martyrs', incentivizing murder and reinforcing a culture which legitimizes and encourages terror," they noted.
Hamas was not the only group to praise the attack. Fatah, which is touted the by the West as a "peace partner" for Israel did so as well.
The group's official Facebook page referred to the attacker, Nimer Mahmoud Ahmed Aljamal, as a "martyr".
Earlier on Tuesday, U.S. Special envoy Jason Greenblatt condemned the deadly terrorist attack and criticized Hamas for praising it.
"My family & I are horrified by the attack in Har Adar. Shame on Hamas & others who praised the attack. All must stand against terror!" Greenblatt tweeted.
"We pray for the victims of today's attack at Har Adar, and their loved ones as well," he added.
U.S. Ambassador to Israel David Friedman also condemned the attack, calling the shooting a "cruel" and "evil brutality" and an act of "unprovoked terrorism".
"Once again, Israelis confront the cruel and evil brutality of unprovoked terrorism," Friedman wrote on Twitter. "We pray for the victims at Har Adar and their families."