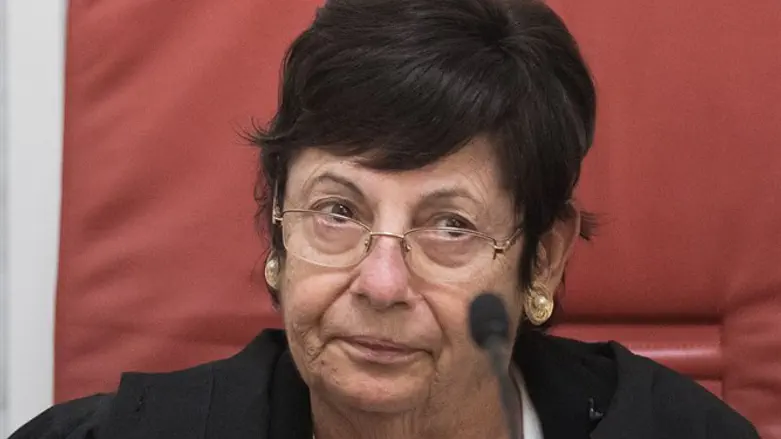 Miriam Naor
Flash 90
Less than a day before the ceremony in Gush Etzion marking the 50th anniversary of the liberation of Judea and Samaria, Jerusalem, the Jordan Valley, and the Golan Heights, the Regavim movement, whose stated goal is promoting a Jewish Zionist agenda for the State of Israel. petitioned the Supreme Court against the Israeli government and Chief Justice Miriam Naor.
Tuesday morning, Naor's office published a surprising statement that it had decided to cancel participation of Judge Neal Hendel as the judiciary's representative at the ceremony initiated by an official decision of the government of Israel.
Attorney Avi Segal of Regavim submitted an official petition to the Supreme Court against the president's directive on the grounds that the participation of staff members in state ceremonies is a "constitutional practice" of binding force.
"The same extra-legal and controversial method of appointing Supreme Court judges according to seniority is valid only because it is a 'constitutional practice' that has existed as a longstanding governmental convention," says Segal.The 'seniority system' that Justice Naor hides behind requires participation of a representative of the judiciary in the state ceremony, no less.
"If the court believes that this is not an official state event, the court must order its official cancellation," Segal adds."The government and its ministers will have to explain why they chose to hold a ceremony that is not state-sponsored with state budgeting, and to crown it as a 'state ceremony.'"