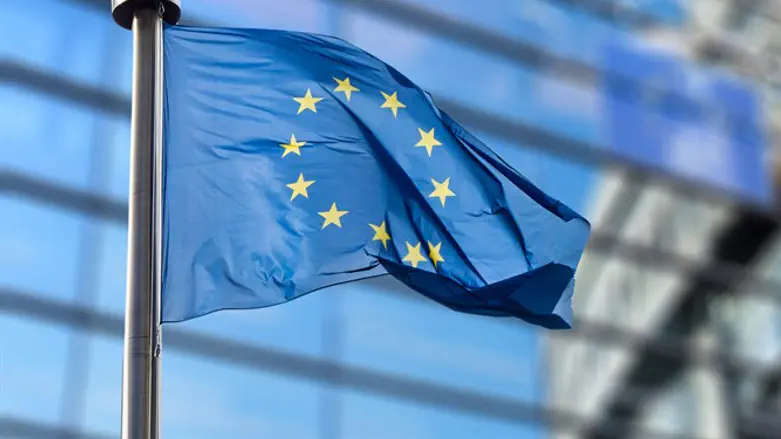 European Union flag
iStock
Israel will hold a state ceremony in Gush Etzion this Wednesday marking the 50th anniversary of the liberation of Judea and Samaria from Jordanian occupation during the Six Day War of June 1967.
As is custom with state ceremonies, Israel extended invitations to the event to representatives of foreign states and bodies.
On Monday, however, Arutz Sheva was informed that the European Union's Ambassador to Israel, Emanuele Giaufret, will not be attending the event, despite having received a formal invitation.
Staff at Giaufret's office confirmed that the ambassador had indeed been invited to the ceremony. "He was invited, but in line with longstanding EU policy has declined to attend."
Knesset Deputy Speaker Oren Hazan (Likud) ridiculed Giaufret's decision not to attend.
"Green Line? As far as I know, there isn't any green river that separates Judea and Samaria from the rest of the Land of Israel. There is no physical barrier stopping the ambassador from attending the event. If they [the EU diplomatic staff] have a problem, they are welcome to solve it with a one-way ticket."
Deputy Minister in the Prime Minister's Office and former Ambassador to the US Michael Oren (Kulanu) called on Giaufret to rethink his decision not to attend.
"The ambassador's refusal to attend the event marking 50 years since the liberation of Judea and Samaria is unfortunate and outrageous. If the European Union and Europe want to play a role in the region, they have to accept facts on the ground that have been here for 50 years."
Culture and Sports Minister Miri Regev (Likud) also responded to the report, arguing that Giaufret's snub was the result of ignorance.
"We've come home and we intend to stay here forever. I'm certain that if the EU ambassador would bother to learn about the history and the heritage of [Judea and Samaria], he would ask to be seated in the front row of this event, and would even give an emotional address on our deep attachment to Judea, Samaria, and the Golan."