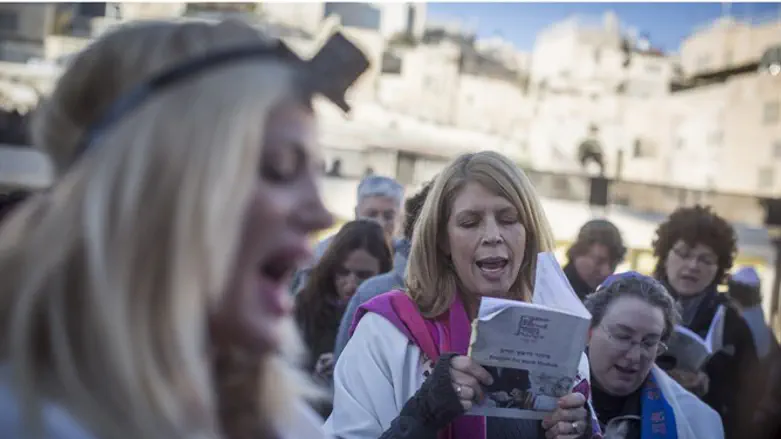 Ultra-Reform?
Hadas Parush/Flash 90
A Jewish feminist group has raised the stakes in the battle over non-traditional prayer at the Western Wall Plaza, petitioning the Jerusalem Magistrates Court to strip Rabbi Shmuel Rabinovitch, Chief Rabbi of the Western Wall, of his immunity in order to permit legal action against him.
According to the Behadrei Haredim news site, the Center for Women's Justice (CWJ), which broke off from the Women of the Wall, contends that Rabbi Rabinovitch is disobeying a court order forbidding him to conduct stringent body checks on Women of the Wall in an attempt to stop activists from smuggling in Torah scrolls. However, they are currently unable to take legal action against him due to the immunity Rabinovitch has as a public servant.
"Recognizing Rabbi Shmuel Rabinovitch's immunity is unreasonable considering that he is violating people's rights, even after he was warned not to," the CWJ wrote in the lawsuit they filed with the court.
They further argued that "it is clear that under the current circumstances, Rabbi Shmuel Rabinovitch has been given comprehensive immunity to do whatever he wants"
In January, the Supreme Court ordered Rabbi Rabinovitch and the Western Wall Heritage Foundation to cease conducting body searches on women entering the Plaza. However, Western Wall policy forbids women from reading from the Torah at the holy site, and Women of the Wall activists have smuggled Torah scrolls into the site on previous occasions.
As a result, Western Wall officials have been holding increasingly stringent body checks on the Jewish new month festival of Rosh Chodesh, when the Women of the Wall generally conducts their provocative prayers at the Kotel.
In August, Rabbi Shmuel Rabinovitch blasted the Women of the Wall after Kotel officials caught them smuggling Torah scrolls attached to their legs. "Today, on the first day of Elul, all red lines were crossed – those who smuggled holy Torah scrolls bound to their bodies, those who hide whistles in their private places, and for what? For the 'sanctity' of a civil war at the Western Wall?" he said.