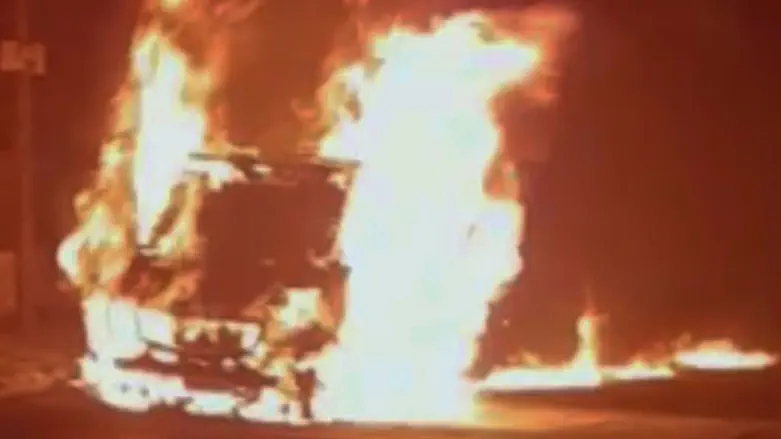 One of the attacks carried out by the cell. Burning vehicle in Silwan.
Police Spokesperson
Shin Bet, Police and the Border Police undercover unit in Jerusalem have uncovered in recent weeks a terror cell whose members are Israeli residents of eastern Jerusalem.

The cell operated in Silwan (Kfar Hashiloah, a neighborhood in eastern Jerusalem located south of the Temple Mount compound), sometimes under the name "the Ghosts of Silwan."

As part of operation against the terror cell, eight Arab terrorists were detained for questioning by the Shin Bet and the police, including the head of the cell, Muhammad Farouk, a 39-year-old Arab resident of Silwan. Farouk was in contact with sources from Lebanon and Gaza in order to gain protection for the cell and obtain funding for its activity.
In addition, several other Arab residents of the capital were arrested in Silwan - Amir Farouk (born 1998), Sa'ud Alian (born 1999), Muhammad Abu Tayyeh (born 1998), Amjad Shweiki (born 1998) ) and Ahmad Abu Halaf (born 1999, lives in Abu Tor near Silwan). An Israeli resident of Silwan, a minor who was a member of the cell, was also arrested. Upon investigation it was found that he was also involved in planning a shooting attack and in a security vehicle burning attack, as well as other Molotov cocktail attacks.

According to investigators, the cell had planned to carry out a shooting attack against Jewish targets in Silwan. Among other things, they sought to carry out a shooting attack on a vehicle belonging to Jewish residents or a shooting attack on Jewish homes in the neighborhood. In order to carry out an attack, members of the cell planned to purchase weapons and undertook various preparations.
The investigation also revealed that members of the cell were recently involved in carrying out attacks in the Silwan area, during which Molotov cocktails, fireworks, and stones were thrown at security forces and security vehicles.
In one of the terror attacks last month, in which some of the cell members were involved, the terrorists torched a security vehicle.
Indictments against those involved will be filed tomorrow, Wednesday, with the Jerusalem District Court.
The Shin Bet noted that "the results of the investigation reflect a rise in the characteristics of terror activity on the ground, inter alia due to the violent events surrounding the Temple Mount, following the attack on the Mount last July. In this context, an escalation in activity is identified in incidents ranging from stone throwing and Molotov cocktails to shooting attacks. The Shin Bet and Israel Police are making great efforts to collect information and foil terrorist activity, both in advance and at the early stages of activity. Thus, many preventive and intelligence measures were carried out, which helped calm the scene. The Shin Bet will continue to act to locate and thwart terror attacks in advance, and to prevent attempts to undermine the population's sense of security."