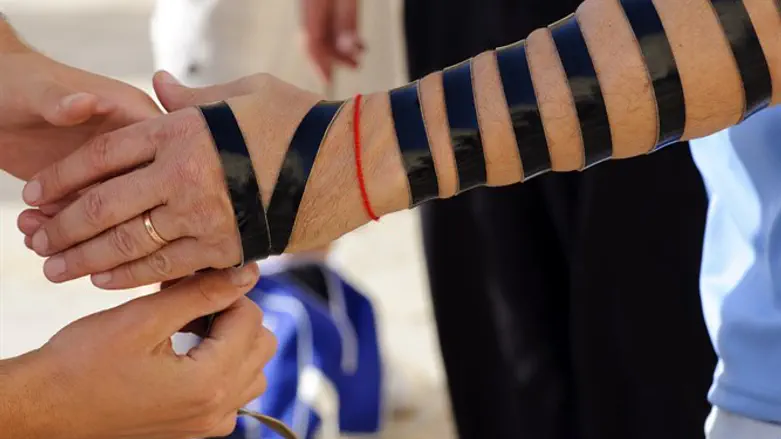 Tefillin
Thinkstock
Herzliya Mayor Moshe Fadlon visited the house of Chabad emissary Rabbi Yisrael Halperin, after a member of the Chabad community was fined last Friday for offering to help passersby put on tefillin (phylacteries). Fadlon apologized in a letter he addressed to the Lubavitcher Rebbe, whom he referred to as 'The King Messiah.'
"I, Moshe the son of Tony Fadlon, Mayor of Herzliya, inform the rabbi, King Messiah, that unfortunately there was a misunderstanding about the tefillin stand. I want to express my sorrow and announce to everyone that I cherish the activities of Chabad. I request from his holiness a blessing for success and for a sweet and sweet year" he wrote.
Last Friday, Yosef Amitai was slapped with a NIS 736 ($209) fine from city municipal inspectors for offering passerby to put on tefillin, which has become a Chabad trademark around the world. The fine caused a furor among the Israeli public, especially on social media.
Agudas Chasidei Chabad, the umbrella organization for Chabad emissaries said that "it's hard to believe that out of all the places around the globe where Chabad emissaries help Jews put on tefillin and connect to their parents' tradition, only in Israel will a person be fined or brought to court for it. Not in New York, not in Moscow's Red Square, not in London or at the foot of the Eiffel Tower. Only in Herzliya, a city in Israel."
For many years, Chabad men have set up stands all over Israel, as well as in many other countries, offering to help Jewish men put on tefillin (the performance of a daily Torah commandment to put words with commandments, placed in small black leather boxes as told to Moses, on one's arm and forehead - symbolizing the heart and the mind turning to God).