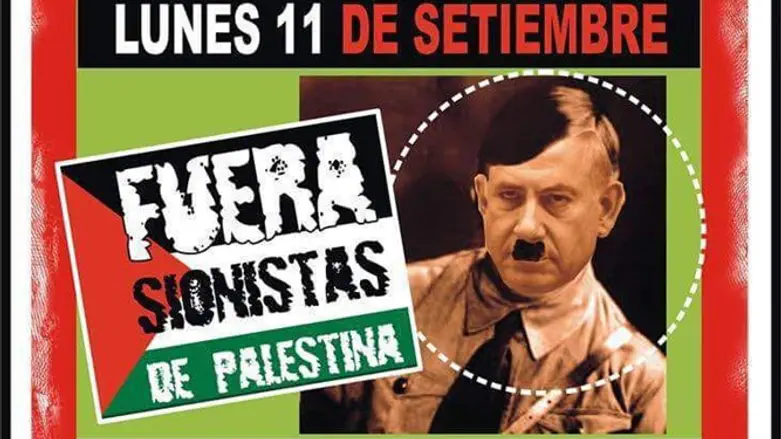 Anti-Semitic poster in Argentina
Independent
Anti-Israel activists plastered Buenos Aires with anti-Semitic signs ahead of Prime Minister Binyamin Netanyahu's visit to South America.
The signs claim that Prime Minister Netanyahu is "wanted for crimes against human rights and Palestinian genocide." Netanyahu is shown wearing an SS uniform, and is depicted with a mustache and haircut reminiscent of Adolf Hitler. The signs calls on the public to attend an anti-Israel demonstration titled "Kick the Zionists and Netanyahu out of Palestine."
The headline of the poster read: 'Disgusting!'
Deputy Chief of the World Zionist Organization (WZO) and Head of the World Anti-Semitism Campaign, Yaakov Hagoel, said in response that "we view these signs with utmost severity. This is an historic visit, and the WZO will continue to fight this scourge of anti-Semitic activity."
Argentina is Netanyahu's first stop on a multi-state tour in South and Central America. Netanyahu is scheduled to meet with President Mauricio Macri, and the two countries will sign a series of agreements on public security, customs and social insurance as well as an archives agreement regarding the Holocaust.
In Buenos Aires Prime Minister Netanyahu will attend ceremonies in Embassy Square where a terror attack was carried out in 1992. Israeli diplomats whose families were killed in the attack will also attend the ceremonies.
Afterwards, Netanyahu will visit the Jewish community building (AMIA), the site of a murderous terror attack in 1994 that killed 85. Both survivors of the attack and family members of the victims will attend the ceremony.