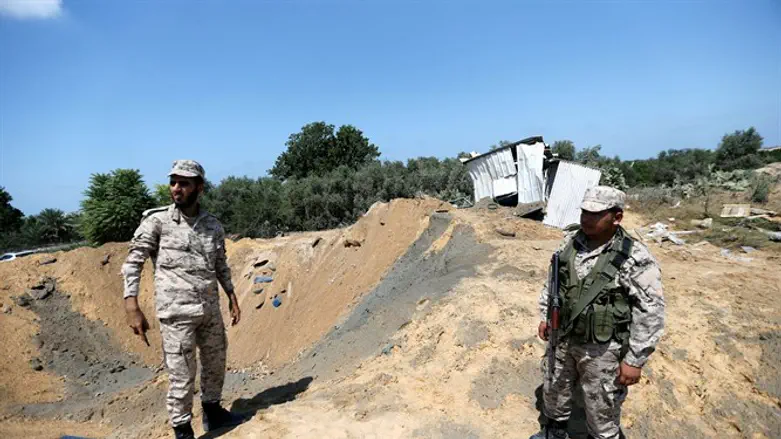 Hamas terrorists
Reuters
Senior Hamas official Mushir al-Masri on Sunday declared that the terrorist organization will only provide information on the Israeli soldiers that it has been holding if Israel first releases terrorist prisoners.
"The only way the Israelis will see their soldier prisoners is through a mutual release as part of a dignified deal, in accordance with conditions and guarantees that will be implemented in practice," Masri told the Hamas newspaper Palestine.
He said that the precondition set by Hamas to start negotiations on an exchange deal would be for Israel to release all the prisoners who were released as part of the Shalit deal and were later rearrested for breaching the terms of their release.
Masri also stressed that recent moves by Prime Minister Binyamin Netanyahu will not succeed in forcing Hamas to provide any details about the Israelis held in Gaza.
Hamas has been holding the bodies of IDF soldiers Hadar Goldin and Oron Shaul since the 2014 Operation Protective Edge.
In addition, two Israeli civilians who went missing in Gaza - Avera Mengistu and Hisham al-Sayed - are believed to be held by Hamas as well.
Peter Maurer, the head of the International Committee of the Red Cross (ICRC), last week visited the region. Maurer met with the Gaza head of Hamas, Yahya Sinwar, and asked that he be allowed to visit "the Israeli soldiers missing in Gaza." Hamas did not agree to the request.
The ICRC chief also met with Prime Minister Binyamin Netanyahu, who asked Maurer to assist in the efforts to bring back the missing Israelis.
The Red Cross has in the past urged Hamas to comply with its obligations under international humanitarian law and provide an update on the condition of Israeli nationals who went missing in Gaza.
Hamas not responded to the request.